Say Hello to Today's Smart Homes
When you think of smart homes, do you think of expensive contractors, major rewiring, and proprietary apps and software? That's the smart home of yesterday – today's smart homes are inexpensive, modular, and convenient to install. They can work with most major smart home platforms. Mix and match devices from different brands, and control them all in one unified app, such as Apple Home.
At Smarter.sg, we believe that smart technologies are no longer in the domain of specialists – everyone can set up their own smart homes with minimal disruptions. We also believe that smart technologies, especially with its use of automations and sensors, lead to better living.

---
Get Started with your Home
No need to approach a smart home contractor and have them inspect your home. The modular nature of smart home integrations today mean that the best approach is actually a step-by-step one, where you figure what works for you – and what doesn't. We don't quote packages, or go to your home to sell you a whole project.
What we recommend is for you to start small, and keep your initial investments low. With devices being as affordable as they are now, you can get started with as little as S$200 with only a few devices. Put them in your home and see what you like, and if you decide to add more functionality, it's as easy as purchasing new devices. Adding a motion sensor into your smart home system can take literal seconds, even including physical installation.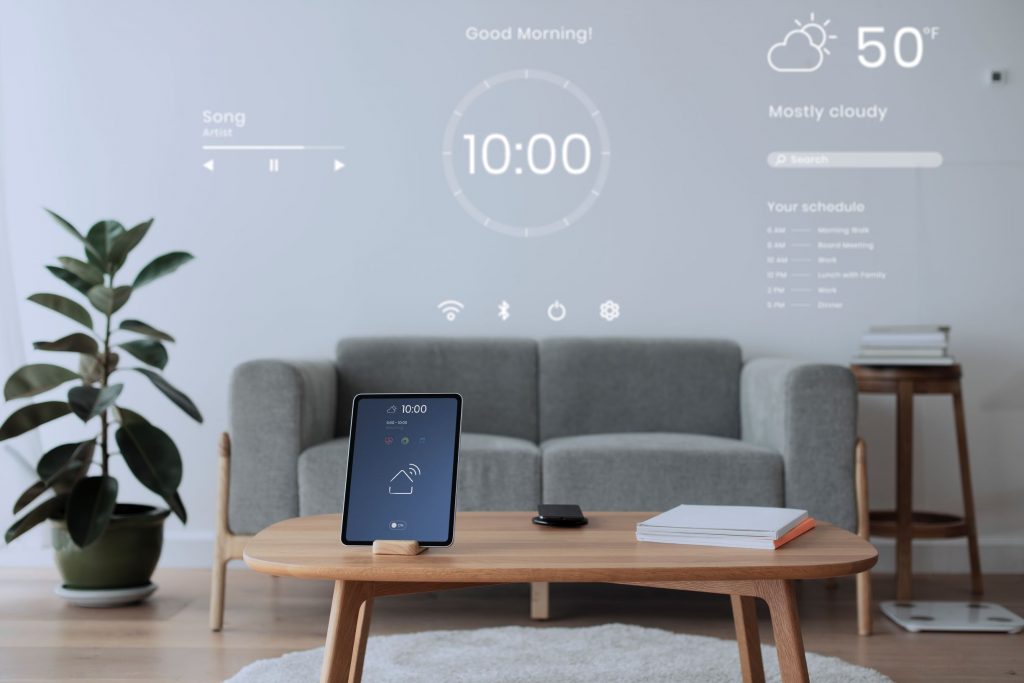 ---
Home Controls and Automations
When we say smart homes can improve quality of life, we don't just mean in the futuristic, talk-to-your-lightbulbs way. It can be impressive to show a neighbour cool voice control, but real quality of life improvements begin with the simple act of increasing the number of ways you can interact with the devices at home – or perhaps more importantly – automating processes so you don't have to interact with the devices at all.
Turning devices smart generally opens up new possibilities in these ways:
Physical switches
App and voice control
Scenes – which are pre-configured operation of multiple devices
Remote control, for when you're not at home

Wireless physical buttons bound to devices and scenes

Timer automations
Sensor-triggered automations
Geofencing automations
---
App and Voice Control
It's not just about being "too lazy" to walk to the switch – it's about gaining the ability to turn devices on and off from another room. And, let's admit it, walking to the switch can be a chore. App and Voice control gives you the power to control your lights and other devices while sitting on the sofa, or lying in the bed, without moving an inch. Lazy? Count us in.
It's also not just about controlling single devices. With the setting of Scenes, you can control multiple devices with one command. For example, say "Hey Siri, good night", and all the lights in your home – not just your bedroom – turn off.
Preset Scenes
You can set any number of devices to any number of scenes. A Good Night scene controlling all your lights? No problem. A "Romantic Dinner" scene that turns off the bright lights, turns on the ambient lights, and turns the AC on, while ignoring other smart devices? You can do that too. Ultimately, it's up to you to decide what preset scenes you want to have, configure them, and then easily activate them using the multiple controls available to you.
Remote Control
Smart home gives you the possibility to remotely monitor and control your home, using cameras, sensors, and connected devices. Be notified on your phone if your door is opened, or if your motion sensor picks up movement. Did Ah Ma ring the doorbell? Check the camera – and remotely unlock your door, and turn the lights and AC on for her.
Wireless Physical Buttons
We get it, you don't want to use voice controls all the time. Sometimes, a simple physical switch is the simplest and the best. But what if we tell you that you can have the best of both worlds? Two-way switches were painfully difficult to install in the past, requiring extensive wiring. Smart homes of today allow you to configure wireless buttons to devices, or even scenes. These buttons can be placed anywhere – in your pocket, or left on your door. You can use blu-tack to paste one on your door that sets the "Going away" scene – where all the devices are turned off – with just one touch.
Timer Automations
We have really pretty lights in some of our cabinets that adds a lot to the ambience. However, they don't provide much functional light. Ultimately, we find ourselves not really taking the trouble of walking to the switch to turn it on in the evening, and turn it off before bed. Timer automations provide the solution to such situations – set it to turn on at 8pm, and off at 10pm everyday. You can even set the condition that it only turns on when you're at home.
Sensor-Triggered Automations
These are the true automations of a smart home. Put motion and occupancy sensors to trigger lights turning on and off, depending on human activity. Have the lights of your wardrobe turn on when the door is opened, by use of a door and window sensor. Smart homes of today offer so much flexibility in customizing exactly what would work for you, in easy-to-use apps. Sensors are tiny, battery-operated, and only takes a minute to install. It's all up to you.
Geofencing Automations
You can set your phone and app up to utilize your phone's geofencing features. That means that when your phone senses it's no longer at home, it can automatically trigger your smart home system to turn off all the lights and devices. Conversely, it can turn your AC on when you get home. With Apple HomeKit, you can set exact geofencing conditions such as "When the last family member leaves home", or "When the first family member arrives home".