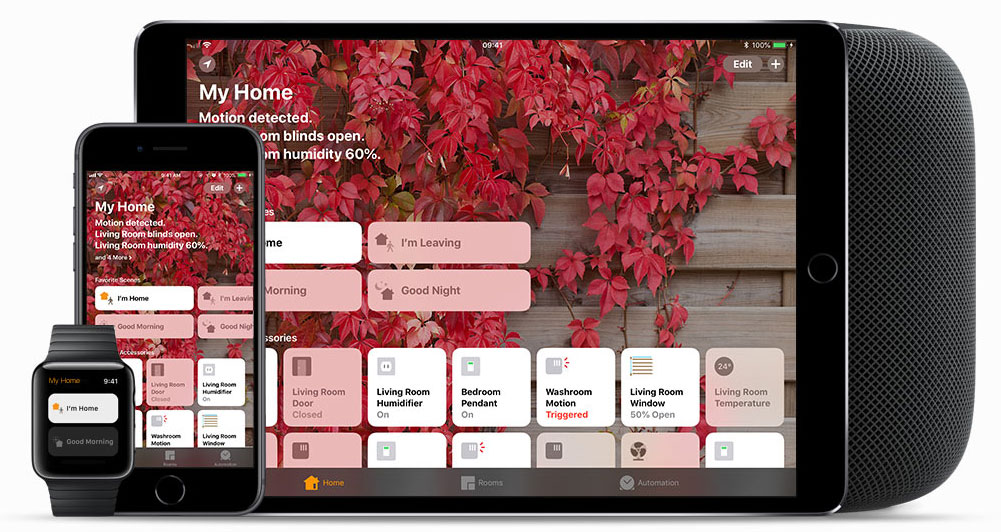 Apple Home can be set up using any iPhone or iPad. Access more functionality by adding in Apple Home Hubs and by using iCloud storage plans.
Basic Apple Home – no Home Hub, no iCloud Storage plan
Control your Apple Home devices when you are at home. Supports Siri. Stream your HomeKit Secure Video when you're home.
No remote functions – you cannot control your devices when you're not at home. You cannot view HomeKit Secure Video when you're not at home.
Apple Home with a Home Hub
Requires an Apple Home Hub. An Apple Home Hub can be any of these devices – Apple HomePod, Apple HomePod Mini, Apple TV (4th generation or later), or iPad (with iOS 10.3, iPadOS 13, or later). Your Home Hub must be signed in with the same Apple ID as your iPhone.
If using an iPad as your Home Hub, it must be left at home and connected to wifi. If iPad is removed from your home, you'll lose remote functionality; however, the functionality is restored when you bring your iPad home.
With a Home Hub, you can remotely control your Apple Home devices, and view their statuses in the Home app. Siri also works remotely.
Get real-time information, and remote notifications about your home from your smart sensors, such as temperatures, motion detection, door opening / closing, and lock states. With a Homekit Secure Video camera, you can also view footage remotely, when out of your home. You can also get notifications based on activity detection in specified zones of your camera.
Your camera can also upload video footage directly into Apple iCloud servers if you have an iCloud storage plan.
HomeKit Secure Video iCloud Storage
Record 10 days of video footage for up to 5 HomeKit Secure Video cameras.
A 50 GB iCloud storage plan (SGD 1.28 / month) supports one camera.
A 200 GB iCloud storage plan (SGD 3.98 / month) supports five cameras.
A 2 TB iCloud storage plan (SGD 12.98 / month) supports unlimited cameras.
Video is only recorded on activity detection. Stream, review, and share recorded footage on the Apple Home app.
The recorded footage does not take up space in your iCloud storage plan.