Apple Home is the most user-friendly and complete smart home system in the market. At Homesmart.sg, we're experts at integrating smart home systems with Apple Home.
Apple Home and Apple HomeKit
Apple HomeKit is Apple's smart home platform, while Apple Home is the name of the app you'll use to control your devices.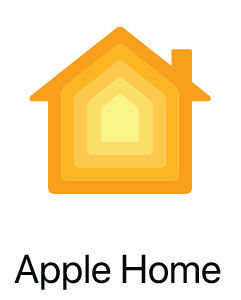 The benefit of integrating your smart home into Apple Home is for native support on all your Apple devices. The Home app is preinstalled on every iPhone, iPad, Mac computers, and Apple Watches. Quickly and easily control your smart devices using the Home app, or in your iPhone's Control Centre. Use Siri on your Apple Watch or HomePod to turn on the lights. Put the Home app on your Mac's Dock for quick access while you work or play.
As Apple's HomeKit manufacturing partner, Aqara smart accessories are all Apple HomeKit compatible, and can all be added into your Apple Home for native control.
How to set up an Apple Home
Our Aqara Smart Home products all work with Apple HomeKit, and Homesmart.sg specializes in Apple Home integrations.

With our smart home systems using Aqara products, setting up an Apple Home is as simple as installing and setting up the products into your Apple Home app.
To unlock full functionality of your Apple Home with features such as remote offsite control and remote monitoring, you'll need an Apple Home Hub, such as an Apple HomePod Mini or Apple TV. You can use our Apple Home Package to get started easily.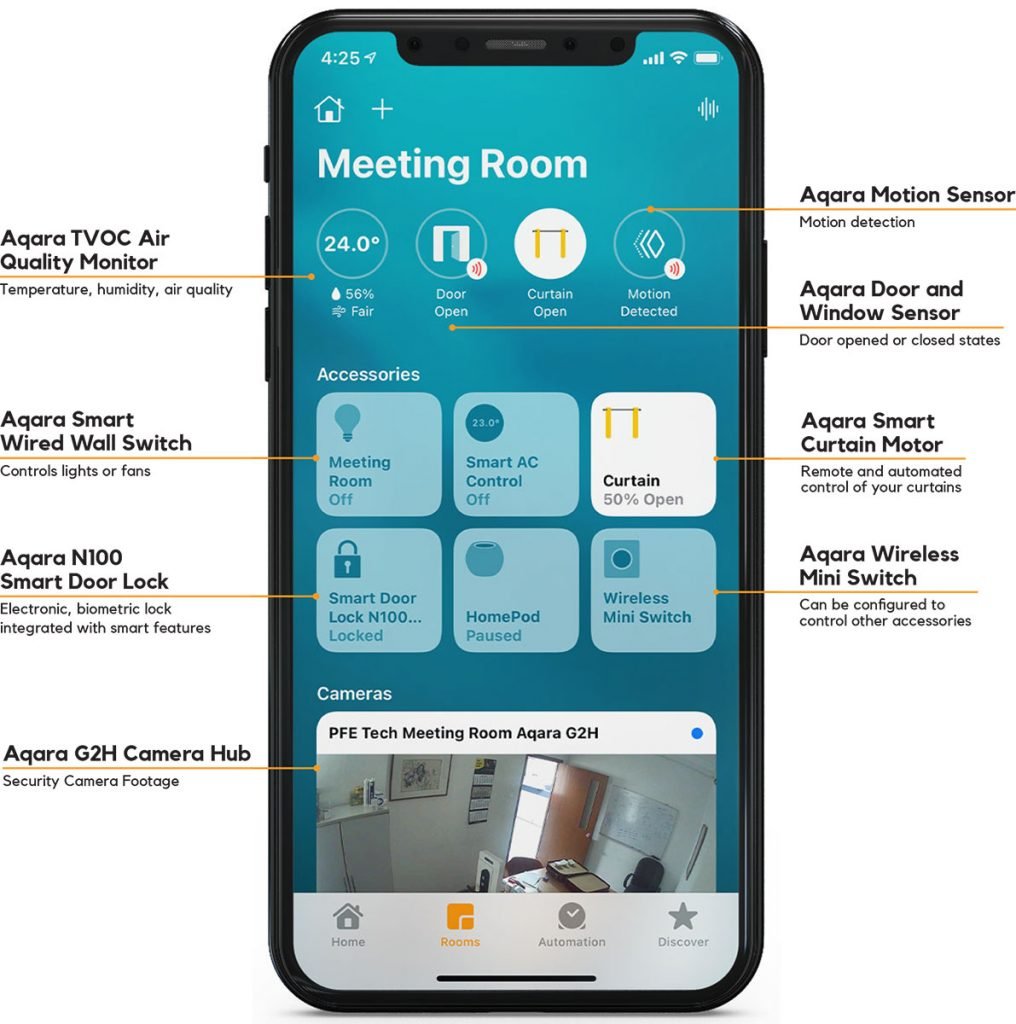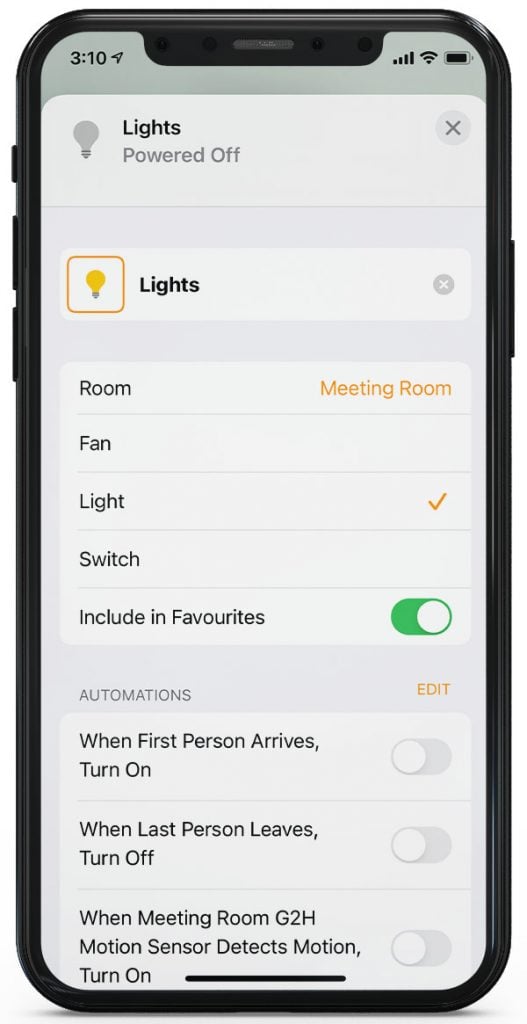 Apple Home Smart Features
Apple Home opens up a world of possibilities in configuring and controlling your smart home. Once set up with an Apple Home Hub and with an iCloud storage plan, we can help you achieve these features, and more.
Smart Controls
Control your devices with the Apple Home app, even remotely (when you're not at home). Use any Apple device – even your Apple Watch or Apple TV. You can also access controls in your Control Centre.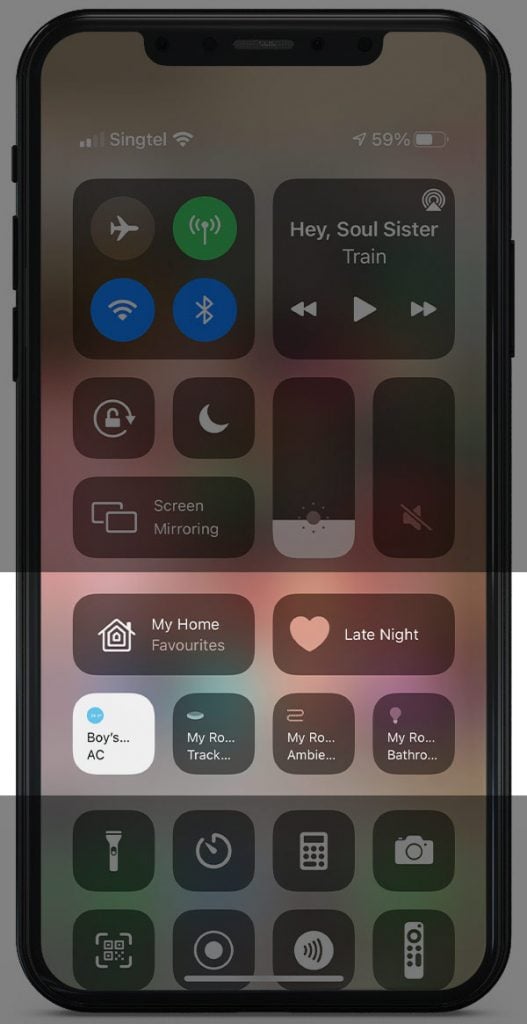 Real-time Information
Get real time information of your home in one app – if doors are opened or closed, locked or unlocked, or if lights are on. You can also see camera footage.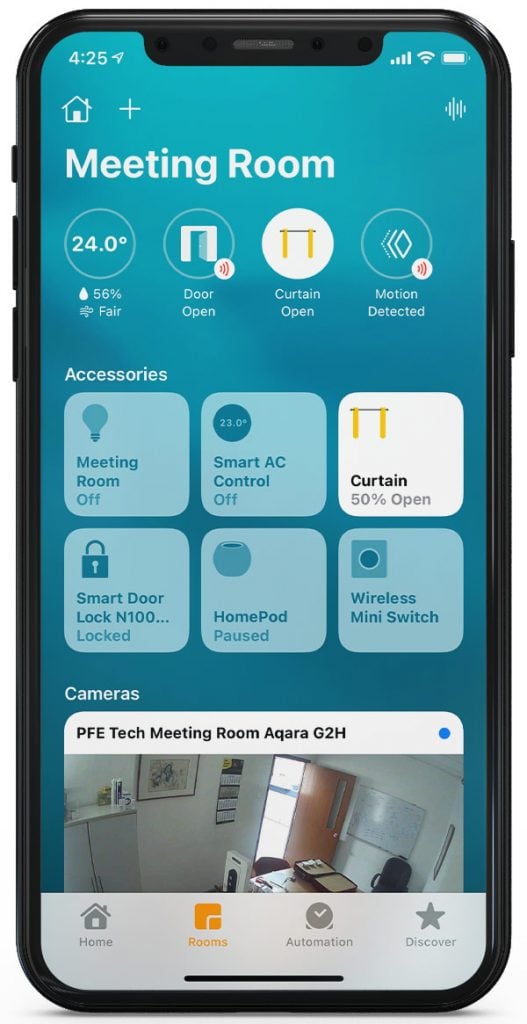 Stream and View Cameras
With our HomeKit Secure Video cameras, you can view and monitor home activity directly in the Apple Home app.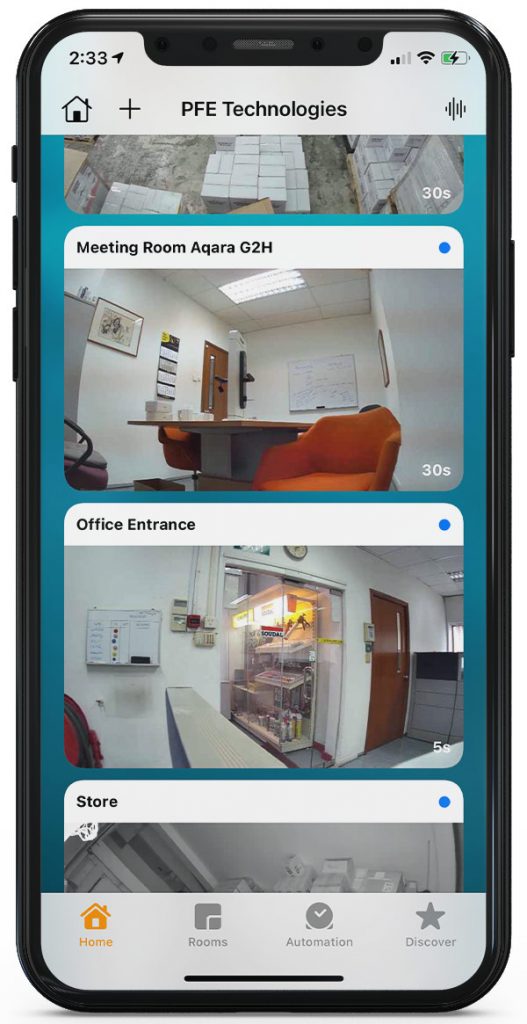 View Recorded Cloud Footage
Playback 10 days of recorded footage stored on iCloud, complete with AI facial recognition and thumbnails. Save videos easily to device.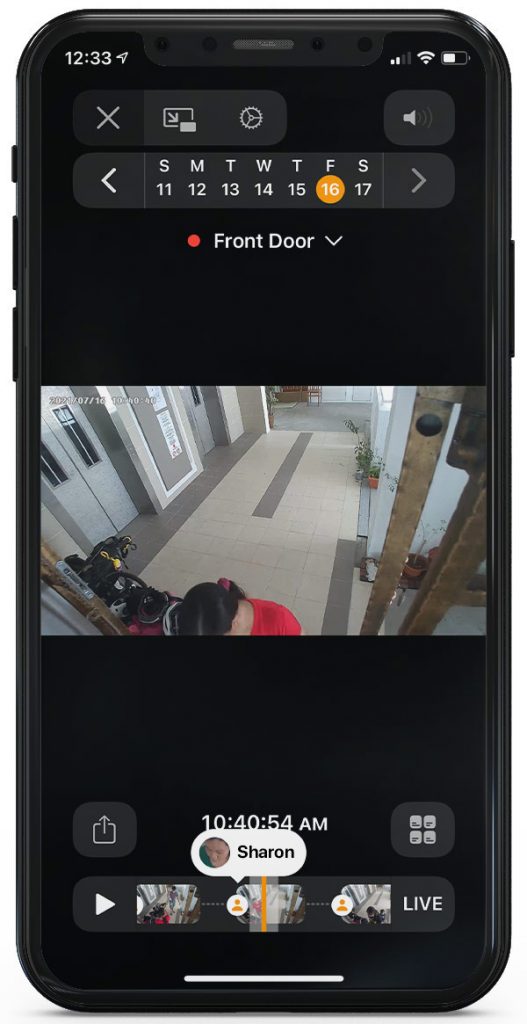 Organize Your Home
Organize smart devices into rooms and zones (group of rooms, e.g. "downstairs"). You can now scroll through Rooms in Apple Home, and give room-based controls (Hey Siri, turn off all the lights in the kitchen). You can also control multiple Homes in one app.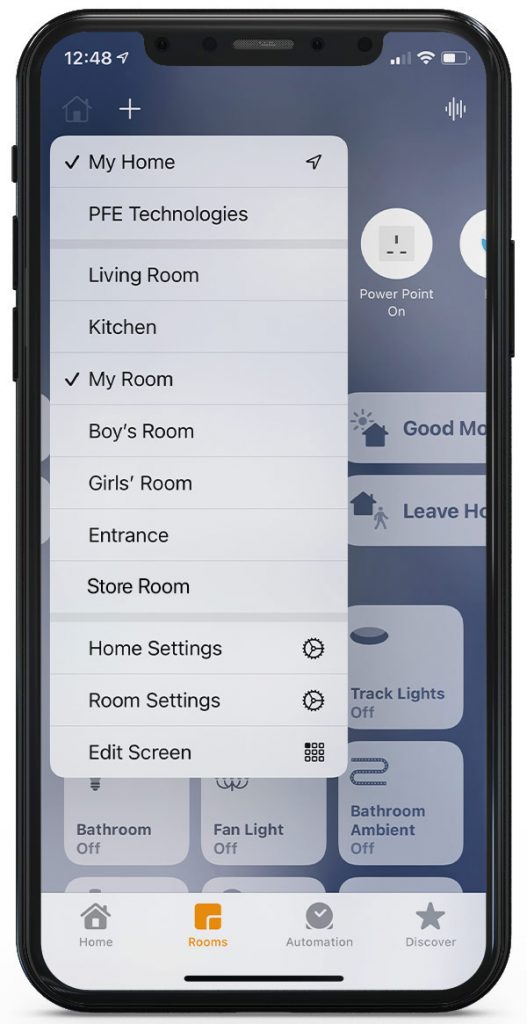 Configure Scenes
Set a group of devices to be turned on or off to suit a particular mood or function. All devices will be controlled simultaneously upon triggering the scene.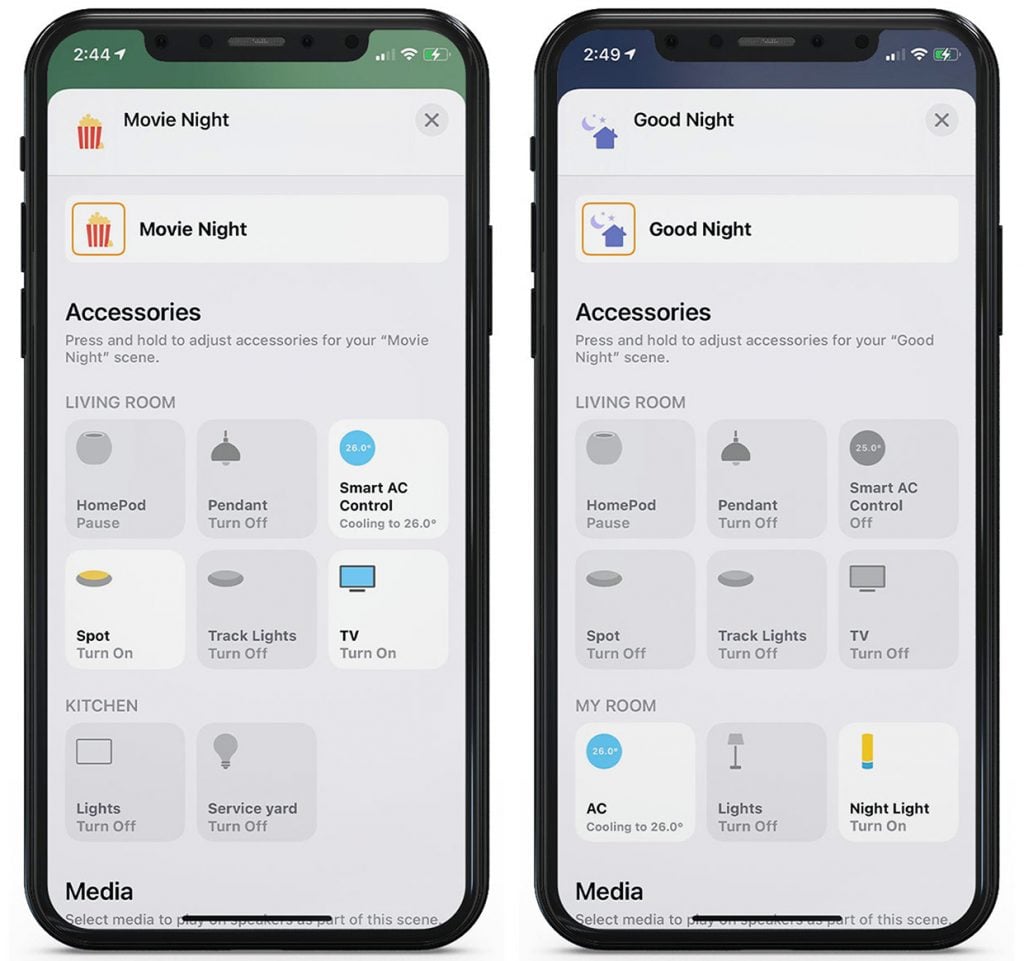 Siri Voice Control on Apple Devices
Control individual devices (Hey Siri, turn off pendant light), all devices in a room (Hey Siri, turn off everything in living room), or to trigger scenes (Hey Siri, Movie Night). Speak to iPhone, Apple Watch, or any Apple device.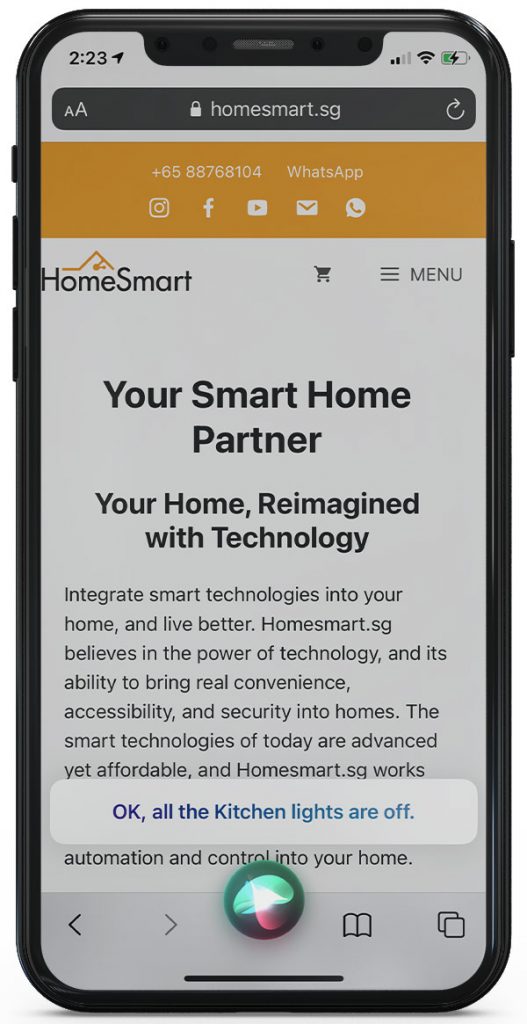 Siri Voice Control on Apple HomePod
Siri on HomePod is context-aware. Saying Hey Siri, turn on the lights to a HomePod will only turn on the lights where the HomePod is assigned – instead of the whole house.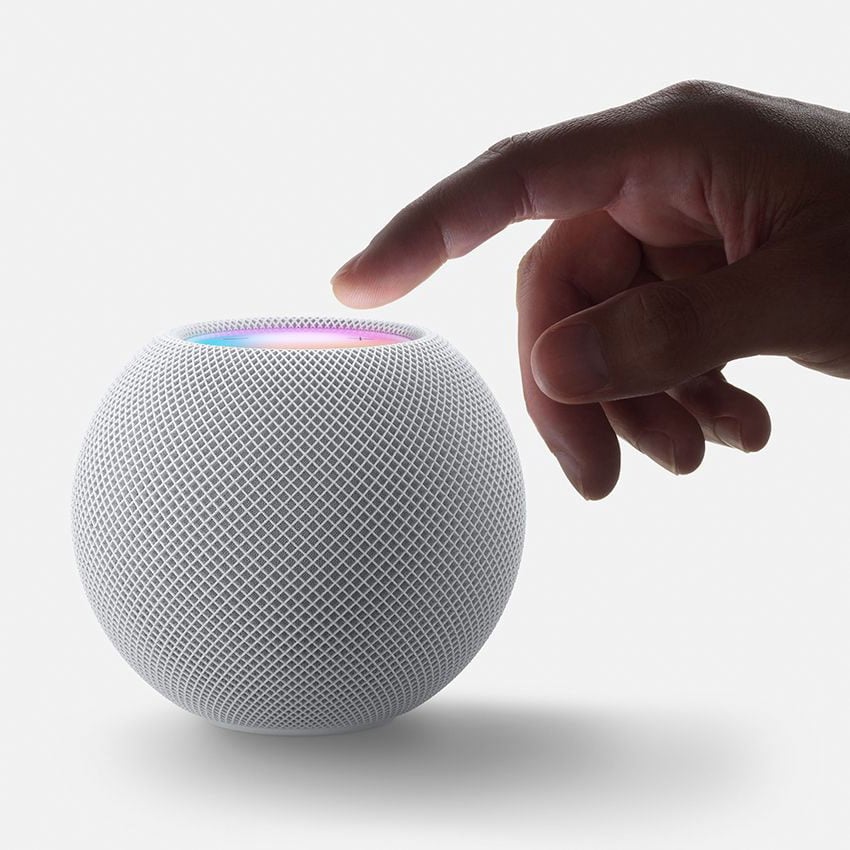 Sensor-based Automations
Configure sensor-based automations of your smart devices, for example, setting your Motion Sensor to turn on your lights. These automations can also run scenes.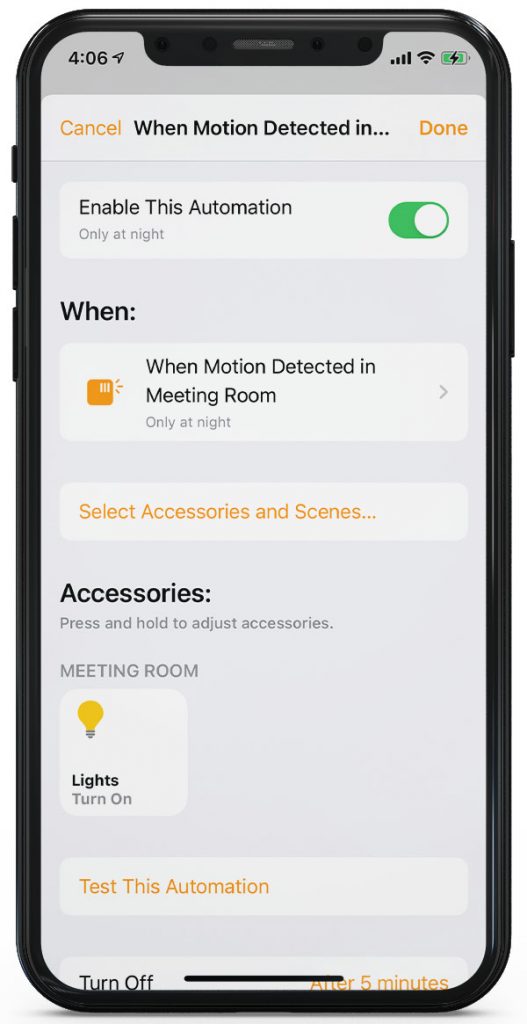 Time-based Automations
Configure time-based automations of your smart devices, for example, turn on ornamental shelf lights at sunset, and turn off at 10pm.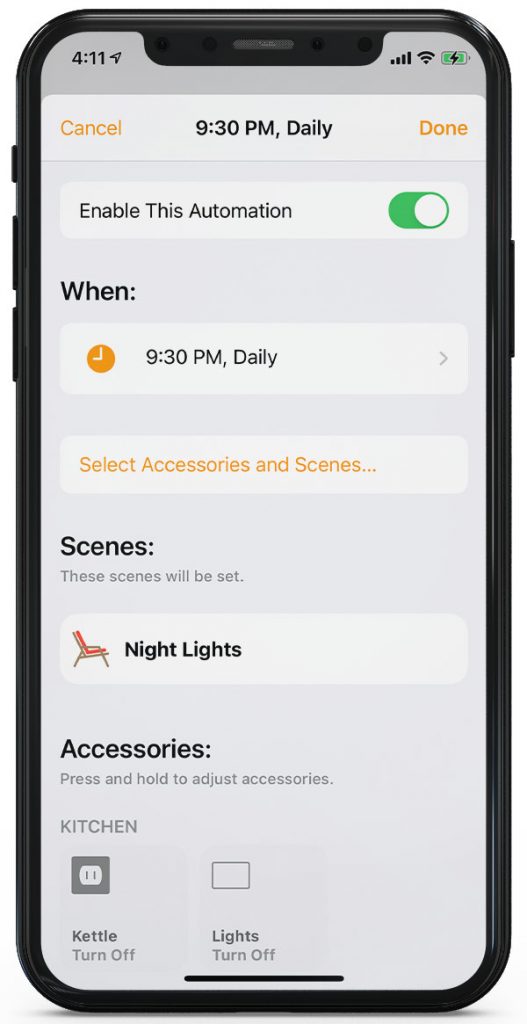 Geolocation-based Automations
Configure geolocation-based automations of your smart devices, for example, turn off all lights and lock your smart door when the last person leaves home. This uses the GPS positioning of the iPhones of every family member.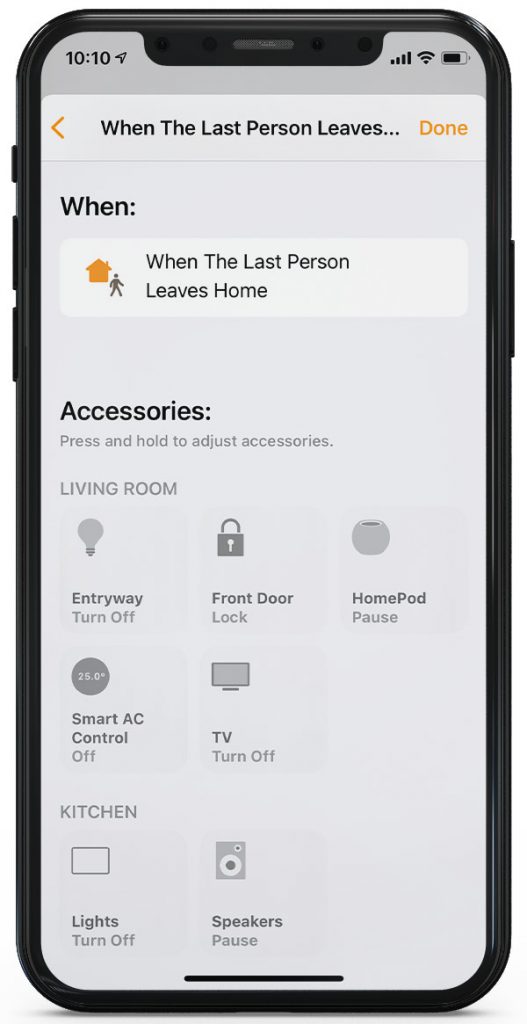 Other Automations
You can create other automations, such as those triggered by other smart devices. For example: turn on entryway lights when smart door lock is unlocked.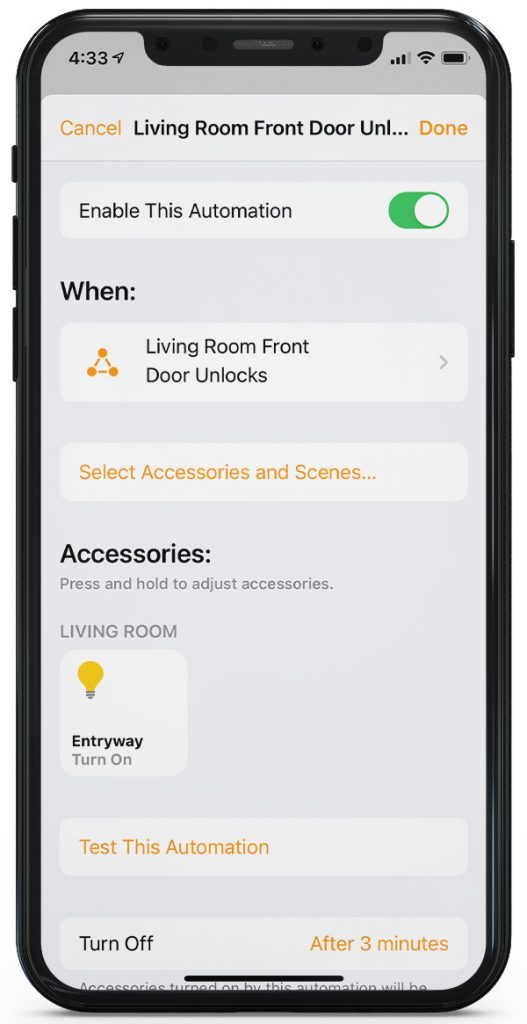 Configure Wireless Buttons
Configure your smart wireless buttons / switches – and the scenes they will run or the smart devices they will control.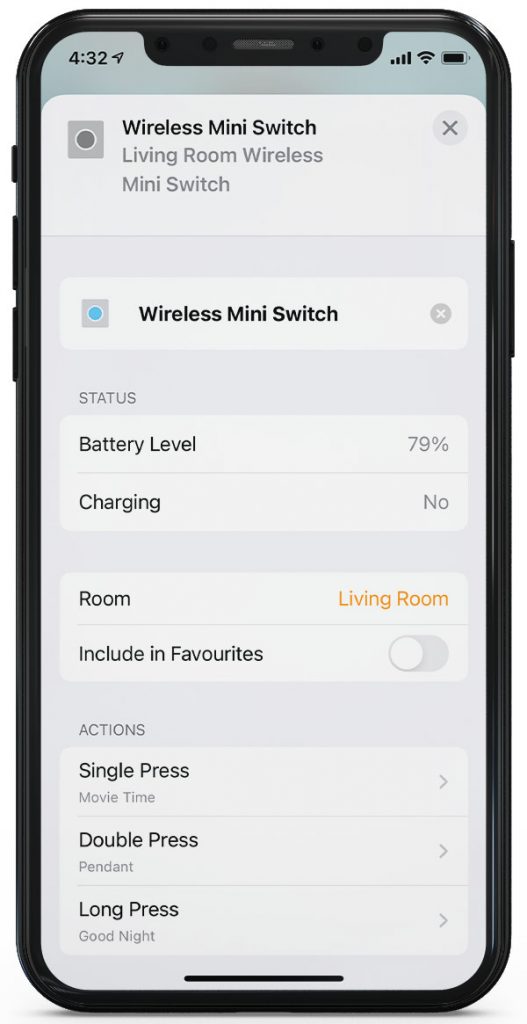 Push Notifications
Receive iPhone push notifications, even remotely, when sensors changes are detected; for example, motion is detected, door is open, or door is unlocked.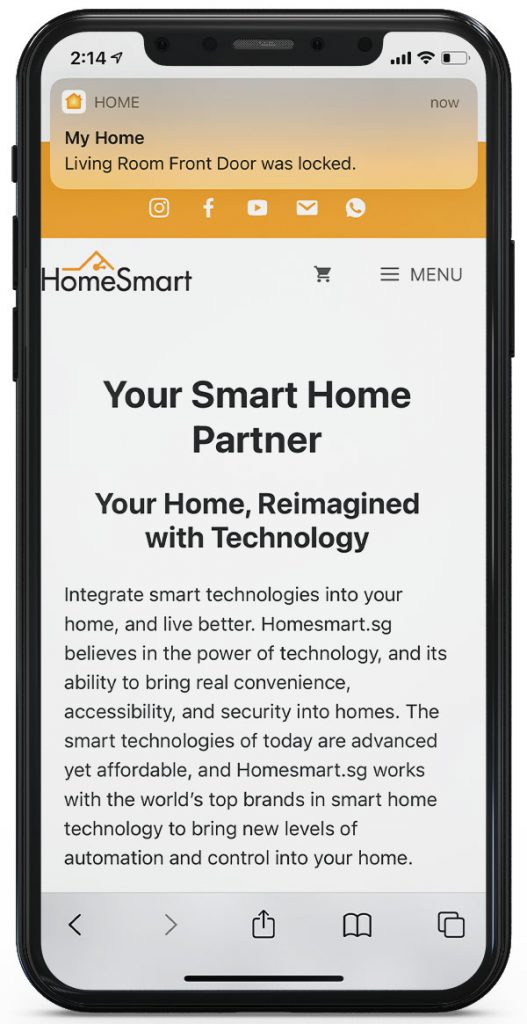 Push Notifications With Image
Receive iPhone push notifications with images (rich notifications), even remotely, when security cameras detect specified activity. Using AI facial recognition, it may even identify the person.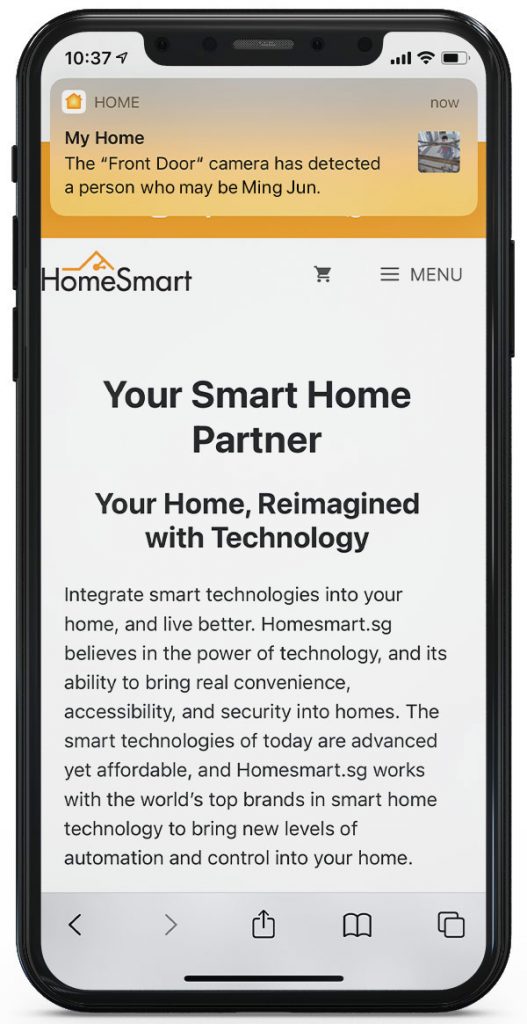 Share Your Home
Invite family members to your home, and every member will be able to control and see updates with their own devices.
Homesmart.sg Can Help Integrate your Apple Home
With its user-friendly interface, and quick, convenient controls, Apple Home makes smart homes fun, simple, and accessible. Being able to use just one Apple Home app, and allowing for Siri on all Apple devices, makes controlling and monitoring your home easier than it has ever been.
At Homesmart.sg, we're experts at integrating Apple Homes. With our Aqara smart products with compatibility with Apple HomeKit, we're the right choice for deep, native integrations with your Apple Home. We'll also go through with you on how to achieve the best ways to configure and control your home.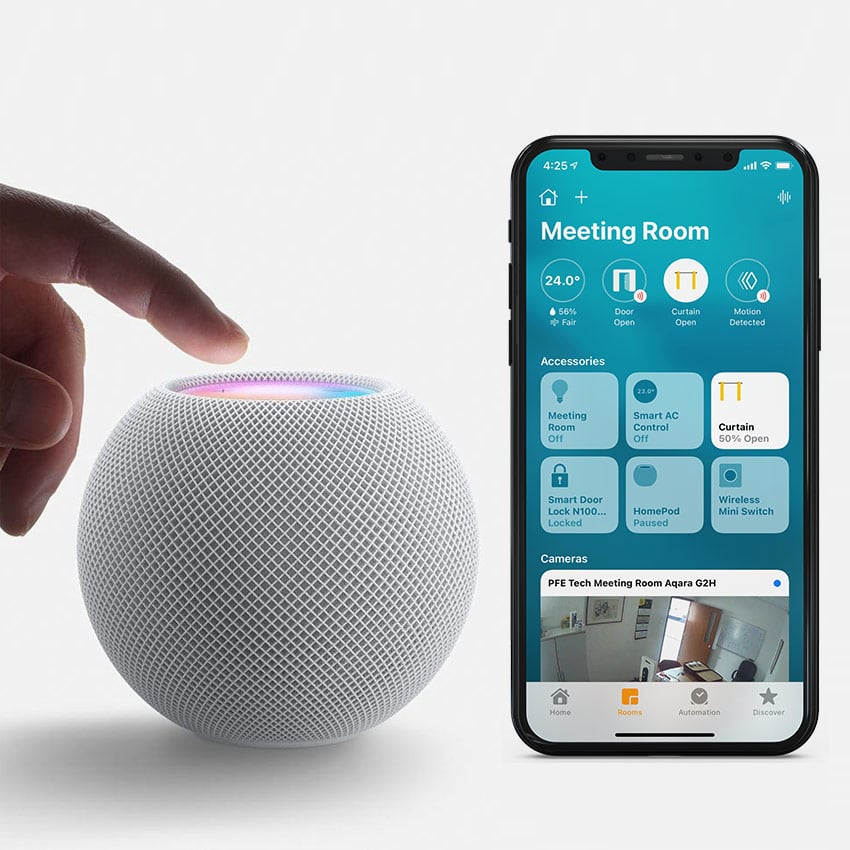 Apple Smart Home
Have your smart home work with Apple Home. This whole-home smart package includes 10 smart switches, 3 air-con smart controllers, and an optional Apple HomePod smart speaker to give your smart home Siri voice control.
incl. GST
Alteratively, our other smart home packs can be integrated into Apple Home – just add the optional Apple Home setup into your package, and you're all set.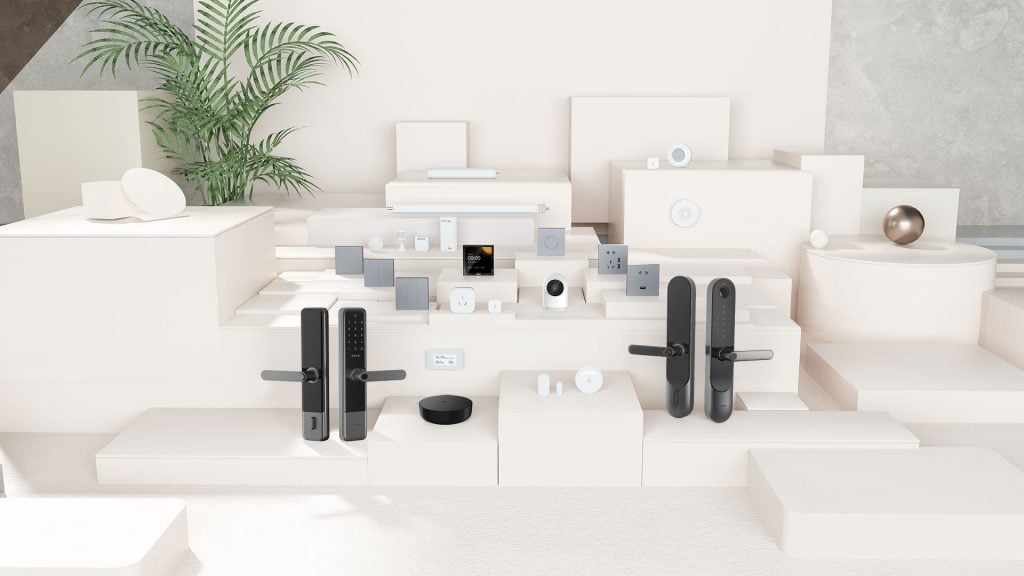 Full Smart Home
Get unbeatable value with our whole-home smart lighting package! It includes 10 smart switches and 2 air-con smart controllers to open up new, smarter ways of home living.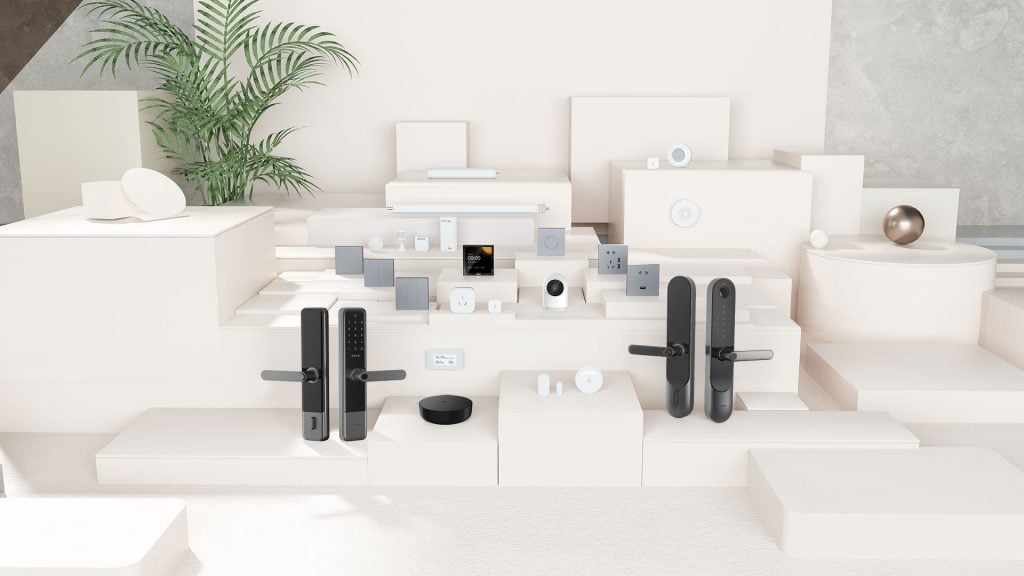 Automated Smart Home
Get your home smart with automations. This pack includes up to 10 smart switches and 3 smart air-con controllers, plus sensors and wireless buttons to create automations and convenient controls.