Zigbee Wireless Technology
Our Smart Devices use a technology called Zigbee to connect devices in their own network. The Homesmart.sg Aqara Smart Hub acts as a "Zigbee Router", creating its own wireless network for our other Aqara devices to connect to.
Here's a simple map of how our Aqara devices can be set up.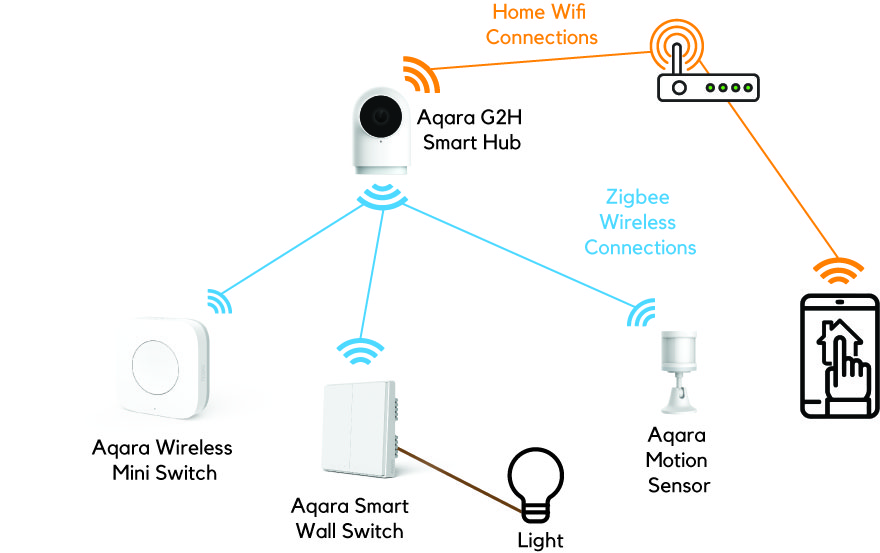 In this case, our Aqara G2H Pro works as a hub – meaning all the other Homesmart.sg Aqara devices are linked to it by Zigbee wireless. The Smart switch, in turn, is controlling the circuit to power a light fixture on and off. As all the devices are linked to the hub, the hub can now then send and receive commands to each smart device.
The smart hub connects to your home's wifi network, provided by your existing router. This enables you to use your smart phone (also connected to home wifi) to access and configure the settings of your smart devices.
For example, you can use your phone to set an automation:
IF Motion is detected, turn ON Wall Switch
Now, when the Homesmart.sg Aqara Motion Sensor detects motion, it reports this to the Hub. Because of the automation you have set, the hub then sends a command to the Smart wall switch to turn ON.
Similarly, since your phone is connected to the Hub by wifi, you can use the app to turn the light on and off. Your phone sends the command over your home's wifi network to the hub. The hub then sends the command to the wall switch, by Zigbee.
Multiple Smart Hubs
As a wireless technology, Zigbee is limited by range. This means that smart devices very far from your smart hub will not be able to connect, and will not work. In this case, you'll need another smart hub in the vicinity.
This means you'll essentially have two Zigbee routers, each broadcasting their own Zigbee wifi network. Your other smart devices must be configured to connect to the hub that is closest to it.
However, this doesn't mean you'll have two different smart home systems. As both your hubs connect to your home wifi, they are able to communicate with each other to integrate themselves into one smart home system.
Here's a simple map of two hubs in one home.

Although the two hubs look separated from each other, in reality they are all now just part of the same system. In fact, there is no "master hub" or "secondary hub" – all hubs work with each other in tandem, automatically. All devices connected to both hubs can be used to communicate with one another.
For example, you can set an automation:
IF Wireless Mini Switch is pressed, turn ON Smart Wall Switch 1 and turn ON Smart Wall Switch 2.
Upon one press of the Aqara Wireless Mini Switch, both lights then turn on – even though they're connected to different hubs.
What about more hubs and devices?
Herein lies what is revolutionary about our system and devices – they're modular. You can have as few or as many smart hubs and devices as you want. Just one hub and one switch – that's possible. What about 10 hubs and 100 devices? It might sound like a lot, but it's quite common (and easy) for larger homes to grow into that number of devices. And you don't even have to do it all at one time – start with your bedroom, and expand into your kitchen and living room later. Just keep adding hubs and devices into your network, at your own pace.
What about smart devices that don't need a hub?
There are smart devices on the market that connect directly to your home wifi, without having to go through a hub. It's a simple way to add smart devices into your home, and allows you to save the money that would otherwise be spent on a smart hub.
However, this would only be recommended for homes which do not intend to adopt a large number of smart devices, as every wifi-direct device will bring additional load to your home wifi network and router.
Why pick Homesmart Hubs?
Our smart home hubs combine the benefits of being a Zigbee router with another fully-fledged function. While many other smart hubs on the market function solely as a hub, our Aqara hubs have multiple functions built into one product. We do understand that spending money on a hub does not always come across as a worthwhile investment – and this is why our hubs are created to have more functionalities beyond just being a hub.
How to Choose a Hub?
We have five hubs to choose from, and choosing is basically selecting which additional function suits your needs. Check our guide on how to choose a hub for detailed information!
Our Range of Hubs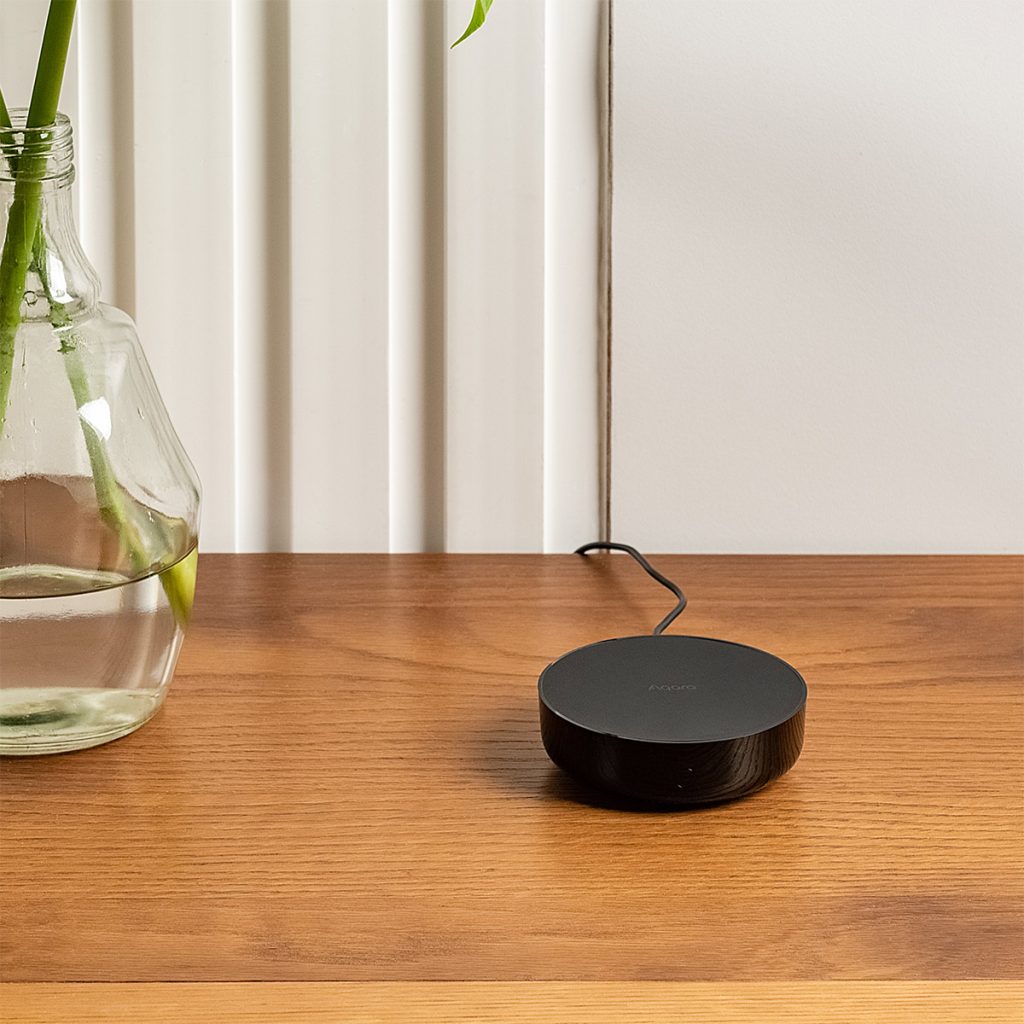 Aqara M2 Hub
Smart air-con and fan controller that also works as a smart home hub for other Homesmart.sg Aqara smart devices.
The Homesmart.sg Aqara M2 Hub is both a smart hub and a smart air-con controller. With its 360 degree IR emitter, the M2 Hub can be used to control and automate your IR appliances, such as air-conditioners, fans, and air purifiers. With the addition of our other Aqara sensors (which is easy to do since the M2 is a hub!), you can create even more automation controls. Just add a few more smart switches, and you already have a smart home.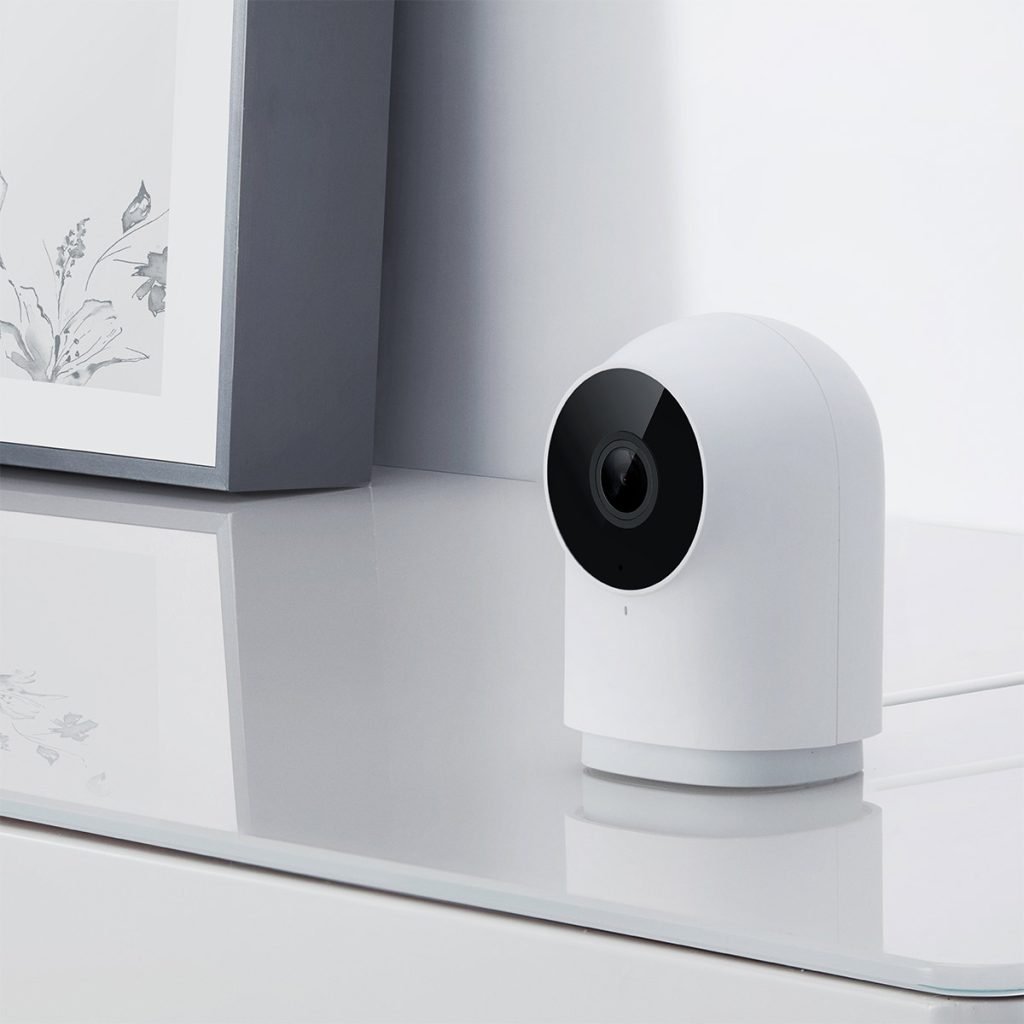 Aqara G2H Pro Camera Hub
Smart, connected camera with motion detection and night vision capabilities. Works with Aqara Home app, Apple HomeKit Secure Video, Google Home, and Alexa. Also works as a hub for other Aqara Smart Devices.
Our Aqara G2H Pro camera hub is both a smart hub and a very capable home security camera. With its support for Apple HomeKit secure video, its strict focus on privacy, and its crystal clear video footage, it is already a default choice for many homeowners who do not even need a smart hub. For smart home owners, it becomes an easy choice.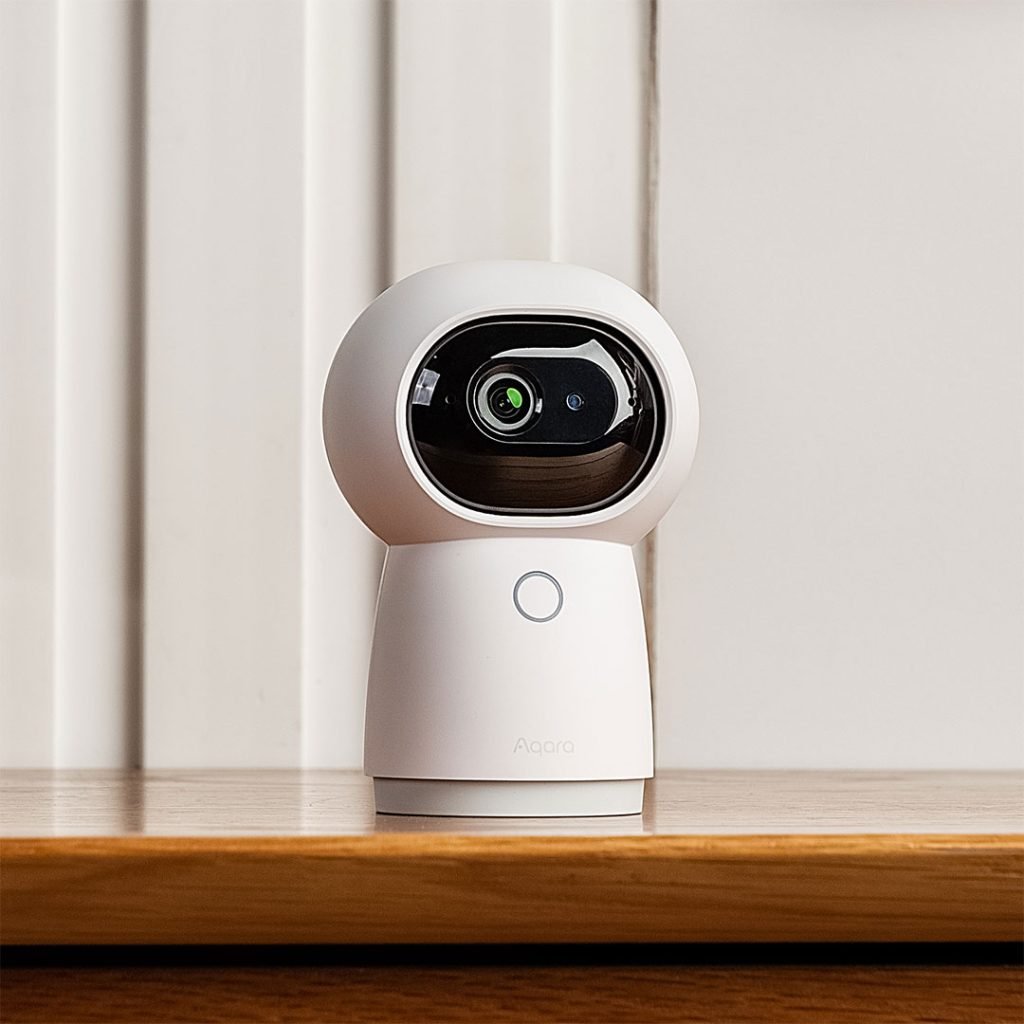 Aqara G3 Camera Hub
AI-enabled camera that works with Apple Home, Google Home, and Alexa – with infrared control, 360° rotation, automatic cruising, and tracking.
Our G3 Hub is the G2H's big brother, with almost similar features, but also featuring pan and tilt controls, and local AI functions.
Aqara M1S Hub Gen 2
Night light and notification speaker that also works as an Aqara Smart Home Hub.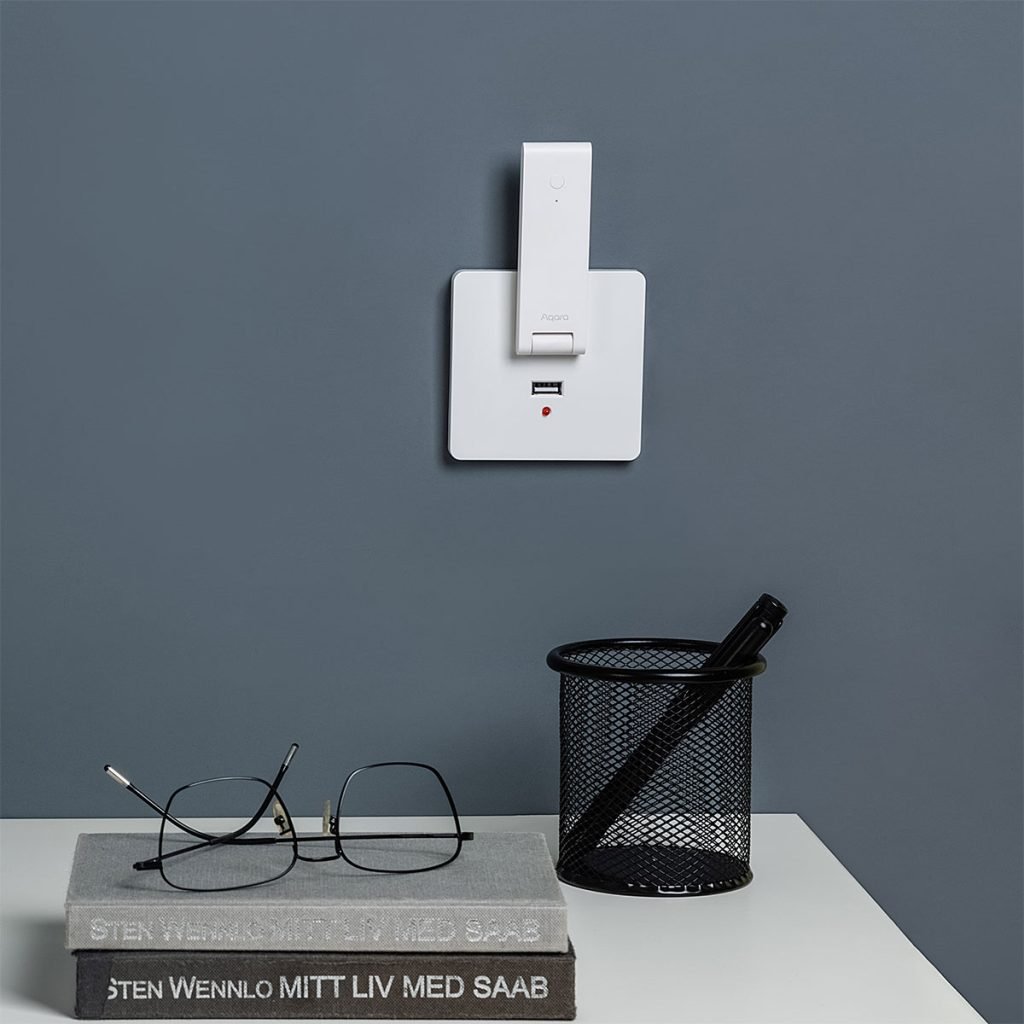 Aqara E1 Hub
Plug-and-play smart home hub that's easy to find a place for; perfect for strengthening your smart home wireless network in weak spots.