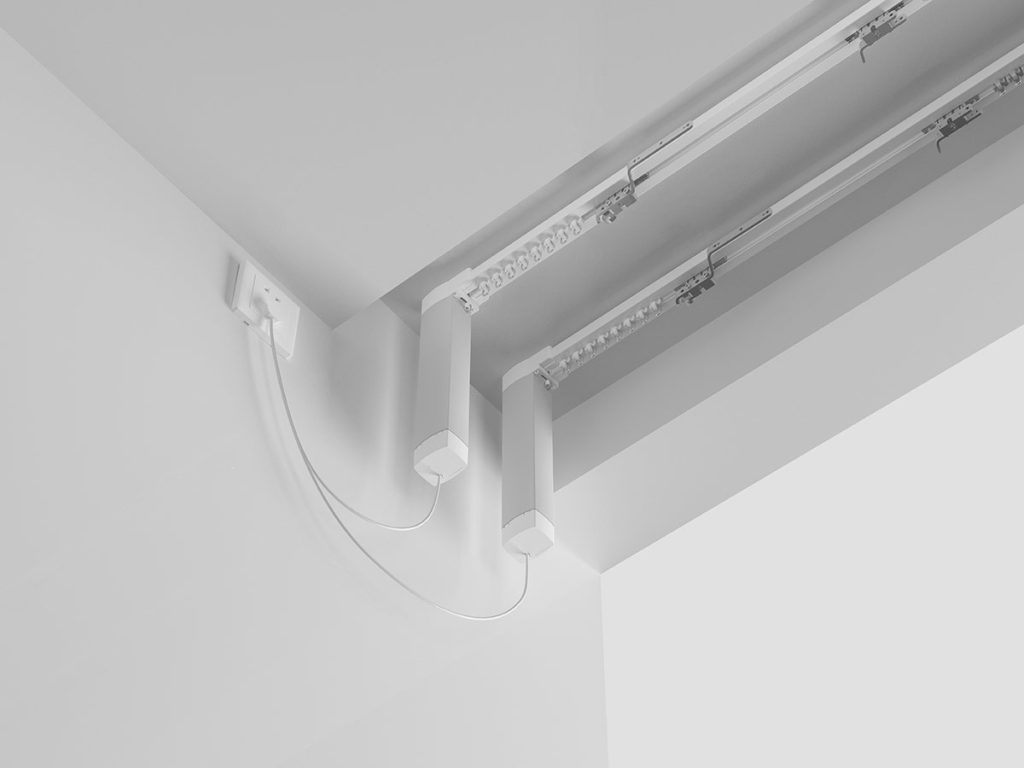 The Aqara Smart Curtain system consists of two parts – the Aqara Curtain Controller (also known as a Curtain Motor), and a motorized track. To complete your curtains, you'll still need to get curtain fabrics of your choice. Curtain fabrics are not included. Not sure where to start? No problem – contact us and we'll help you out.
Our Smart Curtain Packages are based on the length of the tracks. Track length is based on your personal decision – it can be wall-to-wall, or just covering the windows, usually with an extension of the curtains 40 cm past the end of the windows on each side. Do take note that for wall-to-wall systems, there should be an allowance of space of 2 cm on each end. So, if your wall-to-wall's total length is 320cm, the track will be 316cm.
Besides the track length, there are multiple considerations when choosing smart curtains
Smart curtain motors require power. An electrical point should be provided near the location of the curtain motor. The Aqara Curtain Controller comes with a 1m long cable, and no plug (it ends with the three electrical wires which can be converted to a plug, or connected directly into the power supply).
Wall-mount or Ceiling-mount.
Single track or double track (both day & night curtains). Double tracks mean you'll need two sets of Aqara curtain systems.
Centre draw or one-way draw – our motorized tracks will have to be customized based on which way the curtains should draw to.
Curtain pelmets – smart curtain tracks generally need more space than normal curtains. For single tracks, we recommend 10cm of pelmet width. For double tracks, we recommend 20 cm. It may be possible to work with less.
L-shaped or U-shaped windows
All of this can be quite intimidating to take in – but don't worry, we've got your back. We've been installing smart curtains for clients and know exactly what to do – also, we have a few curtain contractors we're working closely with to ensure you get a seamless, back-to-back smart curtain service. Just contact us and you'll be in good hands.
Measurements and Adding to Cart​
Adding our smart curtain system into your home through our online shop is easy and secure. Here are the steps:
Take a measurement of the curtain tracks that you'll need.
Select the appropriate length of track in this product page. Add it to cart.
If you need double tracks (both day and night curtains), make sure you check out 2 units.
Repeat this process for each room/area you need curtains in.
Check out and make payment, ensuring that your contact and delivery details are correct.
We'll get in touch with you to confirm your requirements. We won't be fabricating your tracks just yet!
Depending on how you'll be getting your curtain fabrics, we may be working with your curtain contractor, or our own, to finalize the details.
If there's any change in the length of the tracks, or if there are any special requirements (higher ceilings, wall mounts, L-shaped windows etc.), we'll either refund you the overpayment, or ask for you to top-up for the shortfall.
We'll start fabricating your curtain tracks in our factory in Singapore (lead time from a few days to 2 weeks – depending on urgency).
Once fabricated, we'll arrange for the motors and tracks to be delivered to your site.
Installation can be done by us (at an additional cost), or by your contractors. You choose!
We'll be in communication with you throughout the process to make things clear and simple to understand. And if there's any queries, we'll always be on hand to assist you!