Unlock your Aqara smart door lock with an Aqara NFC keycard!
The Aqara NFC card is based on Near Field Communication, which differs from most other keycards in the market based on radio frequency identification (RFID). NFC gives you better security and higher encryption standards, and cannot be duplicated. Each Aqara NFC card has a built-in EAL5+ security chip to ensure the card's encryption codes!
Pairing the card to your lock is easy – just do it in your app in 5 seconds. Lost a key? Removing a paired card is equally simple!
Learn more about digital and smart door locks with our smart lock guide.
What we love about the Aqara NFC Card:
It's tiny! It only measures 42 x 26 x 3.5mm and weighs just 4 grams.
It's made of hard plastic, so it's durable, yet won't scratch your phone's screen.
It comes with a nice long black loop that's tough, and it's easy to attach it to phones or car keys
Unlocking is instant
Adding and removing keys is a breeze
Who should use an Aqara NFC card?
Generally, with biometric fingerprint and PIN unlocking methods, it may not really be necessary for NFC cards. After all, the whole idea was to go keyless, right? Bringing an NFC card is almost the same as bringing a key – something else to remember, and something you may forget.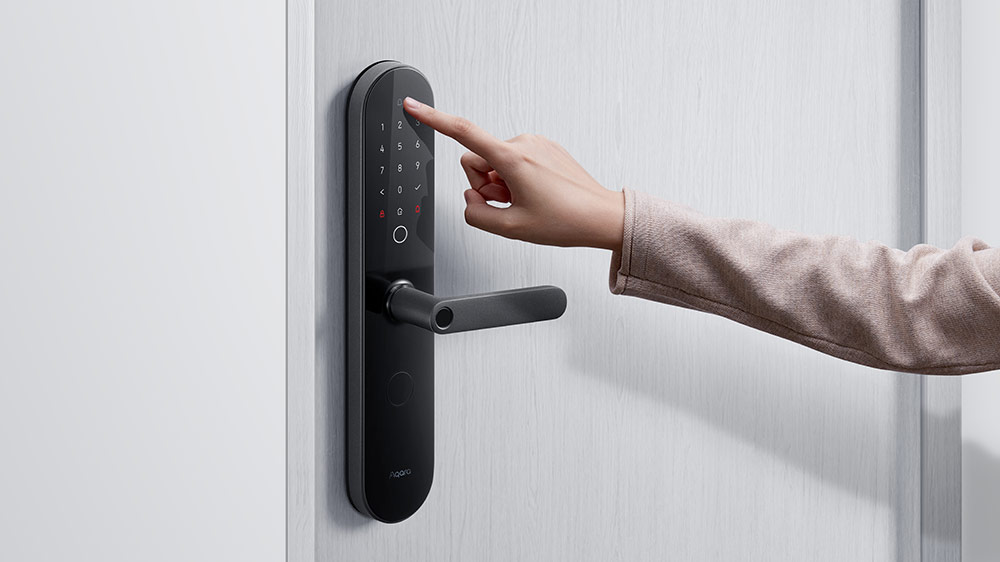 Still, there are very valid reasons why you'll want an NFC card lying around.
For Kids
The Precise Biometrics fingerprint sensor embedded in the door lock handle requires a good fingerprint read to ensure security. This means that smaller prints, such as those in children, will not be able to authenticate. During the fingerprint setup process, a child's thumb or fingerprint attempts will keep getting a prompt: fingerprint area is too small. In such a case, it's better to give a child an NFC card for entry to your home, because they may be sloppy with either memory or PIN security.
We've established that on average, children around 8 years and older should be able to use the fingerprint unlock.
For the Elderly
While the elderly are perfectly capable of using fingerprint sensors, there may be some who are hesitant to use such technology, or some who may be easily alarmed if their fingerprint reads fail. While our Aqara digital lock has a very high rate of success (in our experience, almost the same rate as Apple's TouchID), improper positioning or other factors may cause it to fail, and these factors may be more frequent for the elderly. An Aqara NFC card will be a reassuring failsafe, and many elderly people are used to carrying keys around.
For Your Visitors
Let's say you have a friend over, and she needs to head out to the car for a while. No problem, just pass her an NFC card so she can let herself in later.
For Part-time Helpers
While this group of people will be able to use the fingerprint scanner, you may also choose to give them an Aqara NFC card instead. With traditional locks, you wouldn't give a key to somebody you don't fully trust, because keys can be duplicated. For our Aqara smart locks, the Aqara NFC Cards cannot be duplicated or cloned. And if someone fails to return their NFC card to you, removing the card from your lock is a literal 10 second process on your smart phone.
Need an NFC Card?
We're giving away 2x Aqara NFC Keycards FREE when you purchase our Aqara N100 Smart Locks!