We're big fans of smart, motorized curtains. There's just something about seeing curtains drawing by themselves that gives an immense sense of satisfaction. Satisfaction aside, there's also a very real benefit that smart curtains bring – convenience and automations.
Convenience
Let's face it – getting up of your seat, walking to the curtains, closing one side, and then closing the other side isn't exactly a glamorous job. It is, like many household actions, a chore. It may be only a slight inconvenience, but if you draw your curtains twice a day, that's more than 700 times a year.
Motorizing your curtains eliminates this chore for you. With a motor, the curtain draws itself, or opens itself. Of course, it still has to be triggered by you; just that now it's wireless and convenient.
Homesmart.sg Aqara Smart Curtains can be triggered to open and close using the following:
Wireless remote switch (any of our wireless switches can work)
App control (Apple Home, Aqara Home)
Voice control (Siri, Google Assistant)
Slight physical tug of the curtain
Automations
But what if you don't even need to interact with the curtains at all? Fully automated curtain systems are a real, practical solution when integrated as part of your Homesmart.sg smart home. Your curtains can open and closed based on pre-configured conditions, without you needing to manually trigger it.
As examples:
Curtains opening the same time your alarm clock is set in the morning
Curtains closing in the evening, say 7.30pm
Curtains closing when you leave your home (based on geolocation)
Curtains closing when your motion sensor doesn't detect motion in the room for 30 minutes (to save energy keeping your home cool)
Curtains opening when the front smart door lock is unlocked from the outside
Curtains closing when temperatures in the room reach 29C
Curtains closing when your wardrobe door is opened (you're going to change, right?) – and opens itself 5 minutes later
These are just examples of what is possible. As always, we recommend our clients to adjust their smart home configurations based on their real living habits to get the most out of their smart homes.
Scenes
Smart curtains can also be configured as part of scenes! Some simple ones
Good Morning – curtains open, lights turn on
Good Night – curtains close, lights turn off
Movie Time – curtains close, only ambient lights remain on
What do you need?
To get most controls, you'll need the Aqara smart curtain control system, and an Aqara Hub.
The Aqara smart control consists of an Aqara Curtain Motor, and specialized Smart Motorized Tracks. This means you'll have to remove any existing tracks, and hang your curtains up on the new tracks. If you're renovating, you'll just install our curtain tracks right on the ceiling!
Our curtain tracks are customized and assembled in Singapore!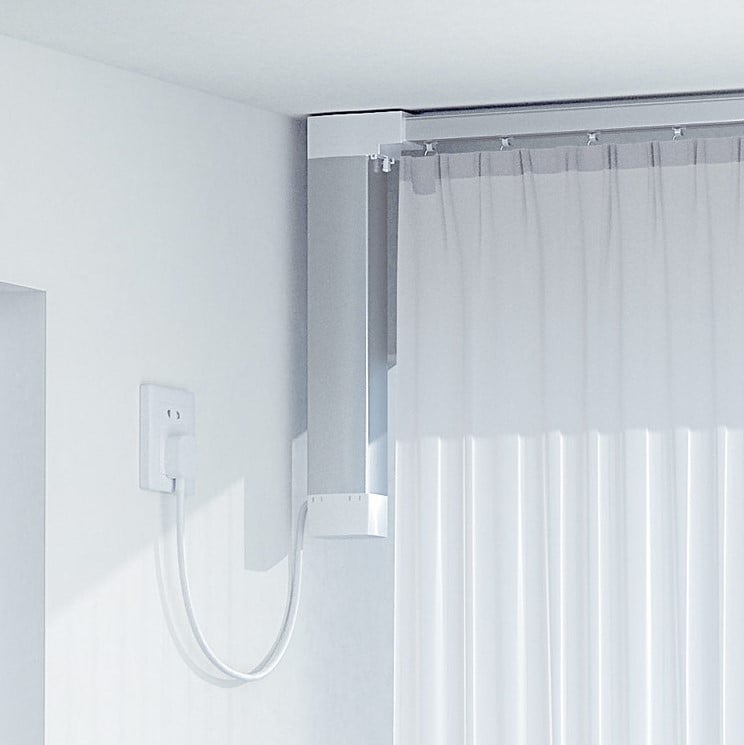 Aqara Smart Curtain Control
Smart motor and motorized track to give your curtain smart controls and automations.
$

339.00
–
$

679.00
incl. GST