The long-awaited Aqara A100 is finally on our shores! Now exclusively available only at Homesmart.sg.
Aqara A100 Zigbee Smart Lock
The Aqara A100 is Aqara's newest smart door lock. It's very similar to the previous model – the Aqara N100 – with many similar functions and features. However, the big differentiating factor for the A100 is support for Apple's new smart home feature – Apple Home Keys.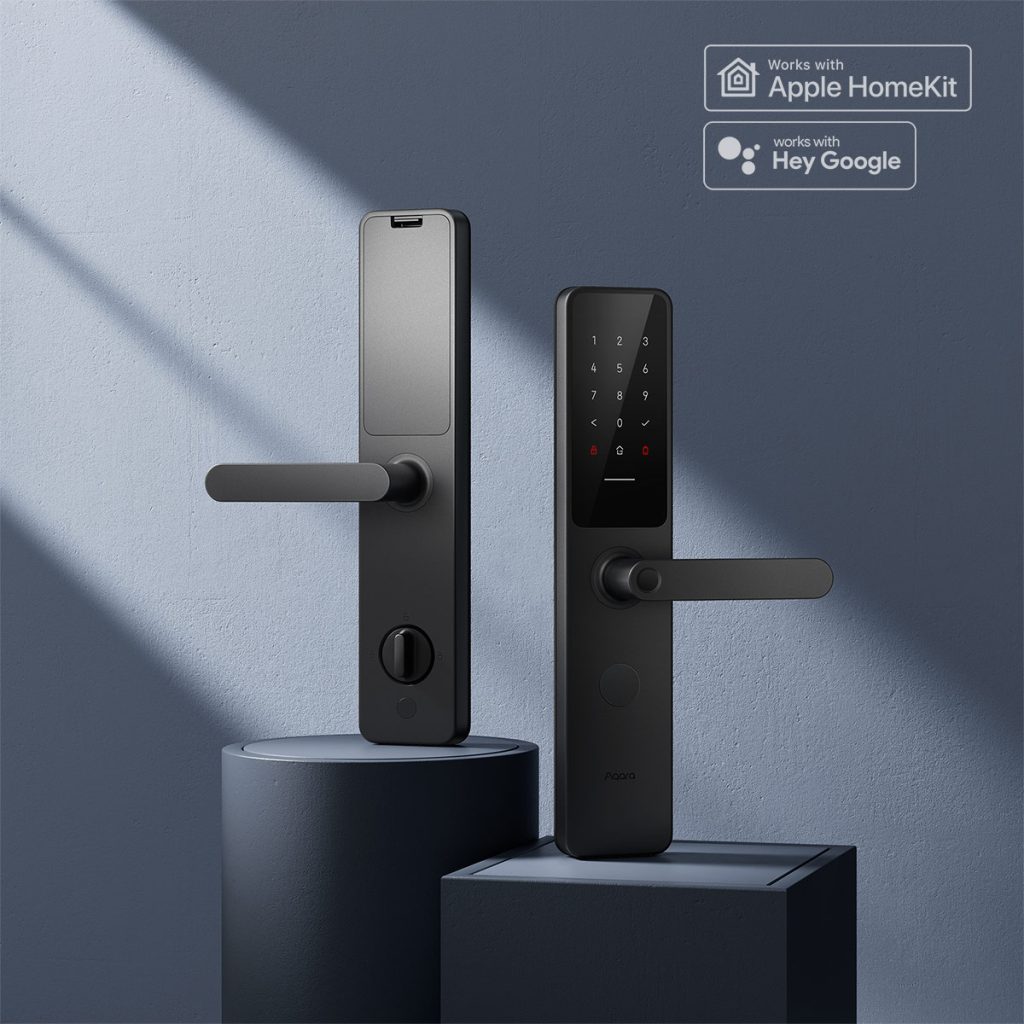 Aqara A100 Zigbee Smart Lock
Highly secure smart door lock with support for Apple Home Keys and Google Home, along with other unlocking methods such as biometric prints and PINs.
$

484.00
–
$

686.00
incl. GST
Apple Home Keys
Announced in Apple's WWDC in 2021, Apple Home Keys allows users to store their house keys directly into their Apple Wallet. It's a super-secure encrypted virtual key that exists in your Apple Devices, and uses NFC to unlock your door.
Simply tap your iPhone or Apple Watch to your door, and watch the magic.
Apple Home Keys can be used in its regular mode, or in Express mode.
Regular mode
Much like your credit card, double press the power button to access your Apple Wallet. Choose your Home Key from your list of keys, passes, and cards. It'll prompt you to unlock your iPhone, and once unlocked, your phone shows "Hold Near Reader". Tap your phone on the lock to unlock your door.
Express mode
This is similar to travel cards' express mode. You don't need your phone unlocked or to open the Apple Wallet. Simple tap your phone to your lock – even if your phone is locked and screen is off – and your door will unlock.
Pro tip – don't have your address visible anywhere on your locked phone!
Other Functions
Other functions similar to the Aqara N100 include:
Lightning-speed Biometric Fingerprint
PIN codes
NFC cards (Aqara NFC cards only)
App unlock with Apple Home
Voice unlock with Siri
One-time Passcodes
Periodic Passcodes
There are also new functions introduced with the Aqara A100 that isn't present on the N100.
Voice unlock with Google Assistant
App unlock with Aqara Home
Remotely Configurable Passcodes
A Lock for Airbnb Hosts
Remotely Configurable Passcodes is a smart new feature for anyone who needs offsite control of their smart locks.
With the feature, you'll be able to add passcodes to your lock remotely – and specify time periods that the passcode is active for. For example, if you have a guest for a weekend, you can set a passcode that will only work during those two days, and expires immediately after.
For this feature to work, you'll need your lock to be set up and connected to an Aqara Hub, and the hub must be connected to your wifi.
Different Aqara A100 Models
If you're a follower of Aqara news, you'll probably have seen mention of other Aqara A100 models available. These are the available ones with their list of features.
| | | | |
| --- | --- | --- | --- |
| | Aqara A100 | Aqara A100 Pro | Aqara A100 Zigbee |
| Region | Restricted to China | Restricted to China | "Other" region |
| Apple Home Keys Support | No | Yes | Yes |
| Zigbee connectivity (to Aqara Hub) | Yes | Yes | Yes |
| Google Assistant Support | No | No | Yes |
| Remotely configurable passcodes | No | No | Yes |
| Unlock door remotely with Aqara App | No | No | Yes |
To be very clear, the model the Homesmart.sg is the international Aqara A100 Zigbee.