One of the simplest, yet most impactful benefits of smart homes is the ability to create scenes.
What are scenes? They are, basically, a preconfigured set of commands to be sent to your smart home upon a trigger. For example, a Movie Night scene would turn off the bright lights, and leave the softer, ambient lights on. And in the case of this Instagram video, a Good Night scene can turn everything off.
If you have more devices, such as smart curtains, air-conditioners, or security systems, they can all be integrated into your scenes if you have an all-encompassing smart home system such as the ones we offer.
In Google Home, these scenes are called Routines.
In Apple Home and Aqara Home, they're called, well, Scenes.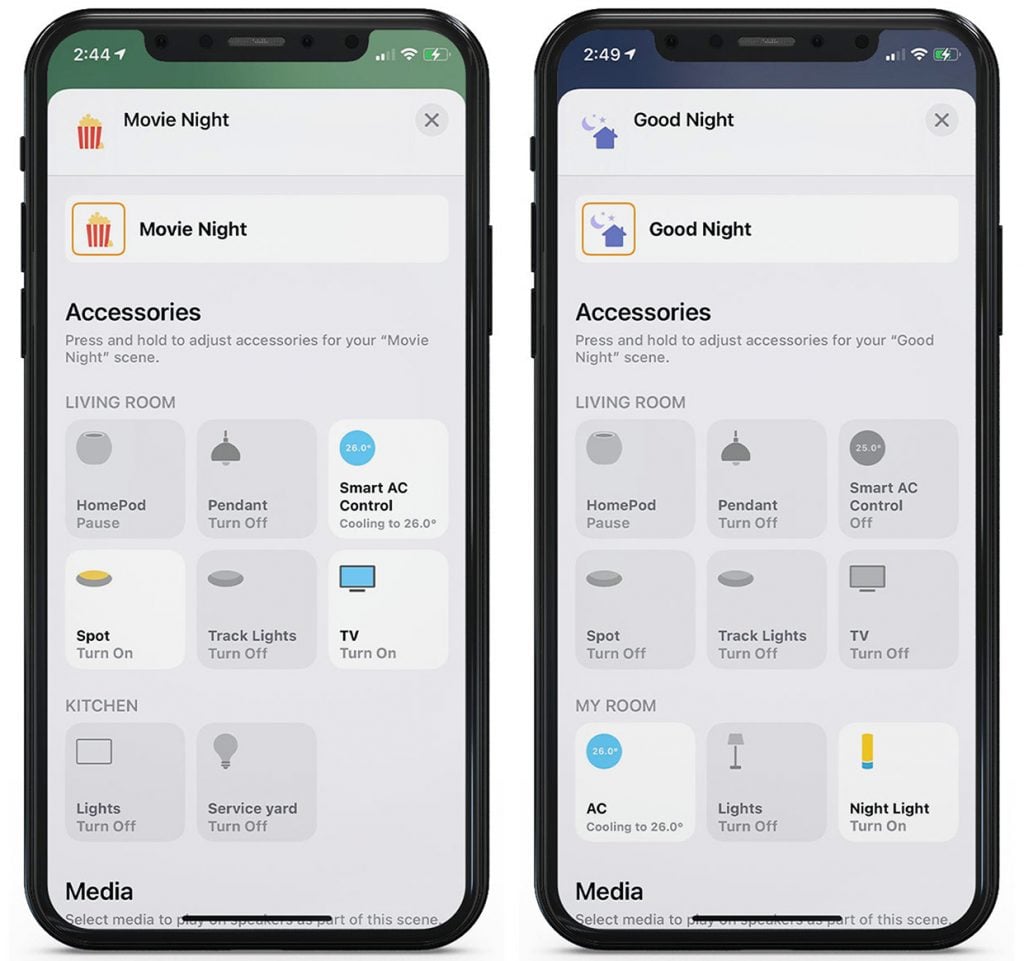 We always preach that the homeowner is the one living in the home, and such scenes and configurations must be created to suit his or her own moods and tastes. And with the smart homes of today, creating your scenes couldn't be simpler. At Homesmart.sg, we guide all clients and get them familiarized to use their smart home systems and apps by themselves.
What's going on in this video?
In this video, we said "Hey Siri, good night" to no one in particular. Our Apple HomePod Mini, listening from a corner of the room (not pictured), picked it up, processed the command, and ran the scenes. She said "On it" after all the lights have turned off – a testament to the speed of our smart home systems.
There's a scene configured in our Apple Home app called "Good Night", and it's set to trigger the following –
Turn off:
The TV (a HomeKit enabled LG C9 OLED TV)
The ceiling fan light
The track lights
The pendant lights
The shelf lights
Kitchen lights
Entryway lights
Living room air-conditioner
The lights are turned off remotely through the use of Aqara Smart Switches. And the air-conditioner through the Aqara M2 Hub (with Siri Shortcuts).
Once Siri has been activated by the trigger "Hey Siri", it listens out for commands, including Apple Home commands. If a scene name is spoken, it runs the appropriate scene in your smart home.
What other scenes are useful?
In our own homes, we found these scenes helpful:
Good morning
Good night
Movie time
Shower time
Evening lights
Party time
Late night
Arrive Home (triggered by geolocation)
Leave Home (triggered by geolocation)
Does this only work for Apple?
No! Most smart home systems, including Google Home, Alexa, and Aqara Home supports scenes. Of course, Siri only works for Apple, while Google Assistant will work with Google Home etc. This means it is entirely possible to set up a Google Home with Routines (the Google name for scenes) that can be triggered by speaking to your smart speakers.
Can I set up scenes in my smart home?
Sure! It's easy, and we'll show you how. More importantly is to get your home set up with smart devices – and that's where we're experts. To find out more about making your home smart (it's easy even in a home you're currently living in), get in touch with us and we'll guide you through – even into details such as how to set your own scenes and routines. Google or Apple – it's no problem for us. Cheers!