The Homesmart.sg Smart Curtains remain one of our most popular smart products, and we find that smart curtains do add a lot of convenience and practicality to any smart home. Drawing curtains is an unavoidable chore – most times, you'd open curtains in the morning, and close them at night. Putting this on a motorized automation is an easy, natural way to use technology to improve your home living.
Some of our favourite ways to utilizing smart curtain systems:
Assigning the curtain control command to a wireless button or switch, which is then placed on the wall near a switch. You can open or close the curtains at the doorway.

As a bonus to the above, it's also possible to get extra 'empty' gangs of smart switches, and assigning the empty gang to open and close the smart curtains.

Easily asking Siri or Google to open or close the curtains. Useful for ad hoc commands, such as times requiring privacy.
Timer automations. You can have the curtains open at sunset, and close automatically at 6pm.

As a bonus to the above, you can even have curtains open at the same time as your alarm clock in the morning, if that's what you want.

As part of a scene – having both light and curtain control integrated into one scene can be useful for things like watching movies.
Smart Curtains In This Project
In this project at Citylights, Our client had a long wall that spans 7m, with unequal window lengths of 3.6 and 3.4m, respectively. Our client and his interior designer wanted to put two separate curtains and motors – one centre-open, and one lateral open.
His living room smart curtain system thus consists of two separate tracks for the night curtains, and both motors in the middle of the room. The day curtains were left non-motorized.
With two different motors, his curtains could be independently and individually controlled. In the video, we assigned a single wireless mini switch to be able to control both curtains – a single press for the lateral-open curtain, and a double press for the centre-open curtain.
Besides this, our client could also control his curtains using voice, scenes, smart phones, tablets, and other switches.
How it works
The Homesmart Smart Curtain system consists of two parts – a motorized track, and an Aqara curtain motor that's fixed on to the track. We tell clients that the smart curtain system requires a bit more involvement, compared to smart devices like switches (which can be 100% DIY). This is due to the variable nature of windows and walls in homes – every curtain track has to be fabricated to exact specifications to meet the needs of each homeowner.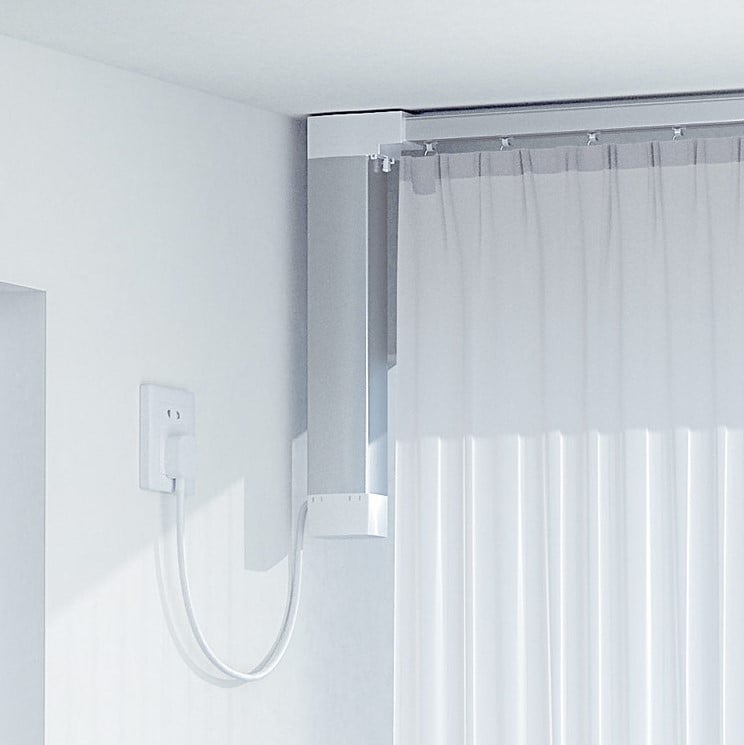 Aqara Smart Curtain Control
Smart motor and motorized track to give your curtain smart controls and automations.
$

339.00
–
$

679.00
incl. GST
The Homesmart Difference
With curtain motors gaining prominence, there are many options for homeowners to choose from. Here's what makes our solution different:
Works with Apple HomeKit, and Google Home
Integrates with other hardware from our smart home range
Can be controlled seamlessly together with our other smart home products

For example, you could have curtains open when you unlock your Homesmart.sg digital lock from the outside

Can be voice controlled both by Siri and by Google Assistant
Tracks fabricated in Singapore
At Homesmart, we're experts in whole-home smart living. We're so committed to quality that we fabricate tracks inhouse, in our factory in Jurong, to ensure maximum quality and reliability. If you're looking for a versatile system for your curtains, you can get in touch with us by WhatsApp or by email.