With our three models of door locks available, it's inevitable that people start asking – what's the difference? Naturally, it's difficult comparing three different models. It makes sense to compare the two locks very similar to each other (N100 and A100), and the two locks which are considered more premium in their class (A100 and D100). Based on this, our clients can make some simpler comparisons to derive which lock they think will be right for them!
This article will compare two very similar, yet very different locks – the Homesmart.sg Aqara A100 and the Homesmart.sg Aqara D100. Here goes!
Homesmart.sg Aqara A100 Zigbee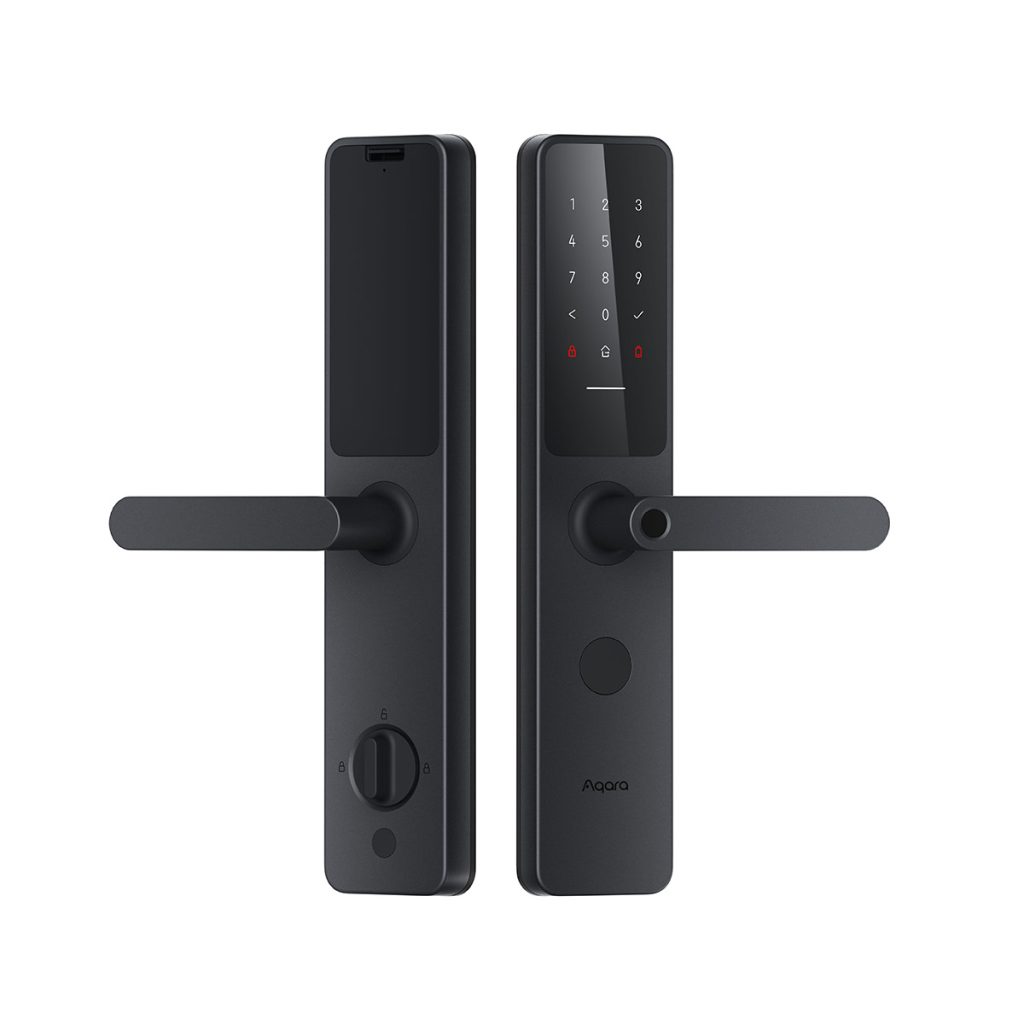 The world's first smart lock supporting Apple Home Keys. The Homesmart.sg Aqara A100 took the world by storm with its advanced technology covering everything from fingerprints to Apple's latest tech, and its very reliable lever handle-operated manual mechanical lockset.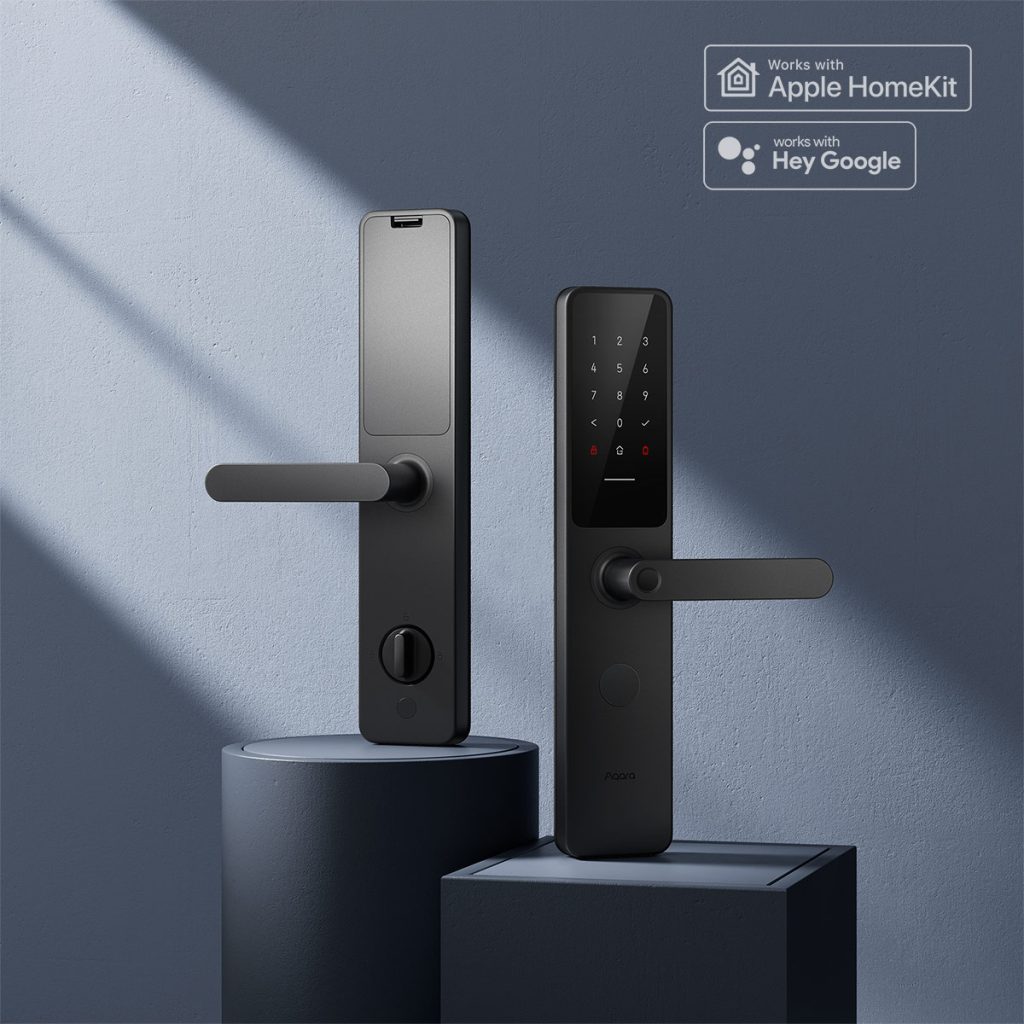 Aqara A100 Zigbee Smart Lock
Highly secure smart door lock with support for Apple Home Keys and Google Home, along with other unlocking methods such as biometric prints and PINs.
$

484.00
–
$

686.00
incl. GST
Homesmart.sg Aqara D100 Zigbee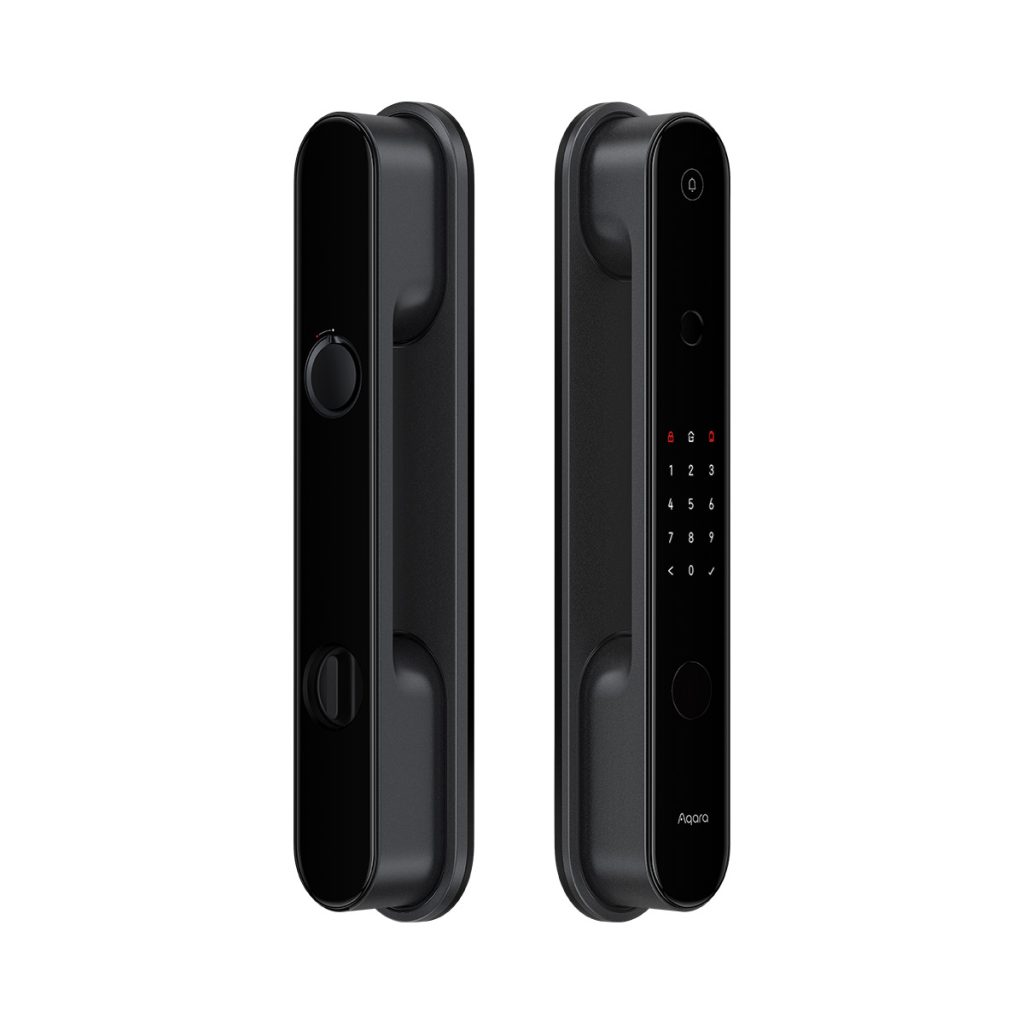 Our latest Aqara smart lock, and the third lock in the world to support Apple Home Keys. Its push-pull design and fully automatic lockset puts it into a premium category of digital and smart locks, with a higher-end, glossier appearance.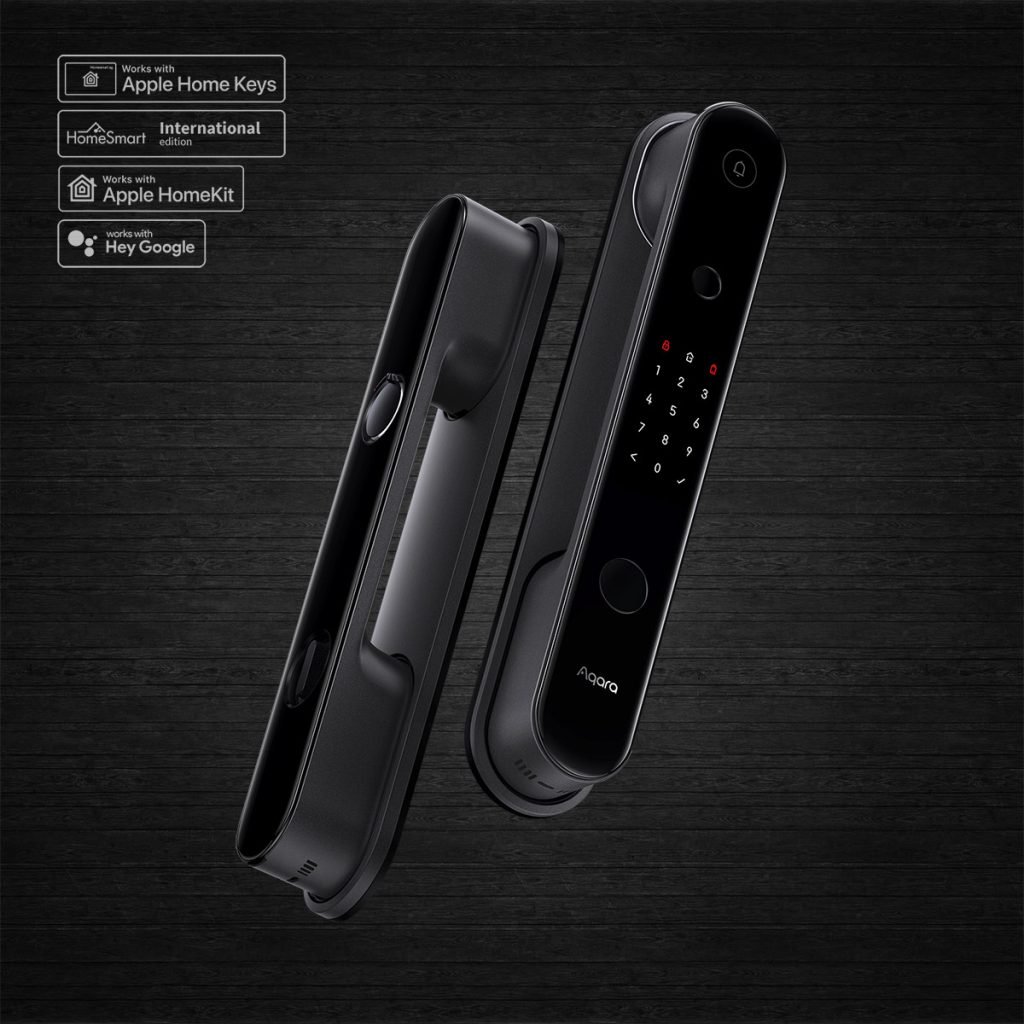 Aqara D100 Zigbee Smart Lock
Fully automatic, smart push-pull door lock with support for Apple Home Keys and Google Home, along with other unlocking methods such as biometric prints and PINs.
$

686.00
–
$

888.00
incl. GST
Similarities
As usual, it's easier starting with the similarities in the two locks. Both locks have a very extensive feature list, many of which overlap.
Unlocking methods – both locks actually feature identical unlocking methods

Fingerprint unlock – both ergonomically placed where it's natural to have your hands when opening the door
PIN code unlock – both support multiple PIN codes. Each user can have different PINs
NFC cards – both support Aqara NFC card unlock (sold separately for the A100, 2 pieces included in box for the D100)
Mechanical keys – both support mechanical key lock/unlock – the keyhole position is similar on both
One-time Passcodes – both locks support generating OTPs from your app, even if your lock isn't connected to a hub
Apple Home Keys – unlock your door using a Home Key that's stored in your Apple Wallet on your iPhone or Apple Watch. Simply tap your phone or watch on your door lock to unlock.
Remote Unlock with Aqara Home App – Both locks can be remotely unlocked if the lock is connected to a hub (hub not required for basic functions; hub sold separately).
Time-based Guest Passcodes (also called Periodic Passcodes) – Add new passcodes for temporary guests that will only work in certain time blocks. With an Aqara Hub, you can even do this remotely.
Google Home – Both locks show up on Google Home, and you can unlock using Google Assistant. However, at the time of writing, lock support on Google Home isn't designed very well. On your phone, you have to verbally dictate your actual PIN code to your Google Assistant to get it to unlock, which makes no sense to us.

Auto lock – both will automatically lock when the door is closed. There is no option to have a door remain unlocked and closed.
USB-C port for emergency power – Both have their emergency power port at the same spot, at the bottom
User management – both locks use the Aqara Home app for user management
Apple HomeKit Support – both locks are supported on Apple HomeKit – you can add the lock to your Apple Home and unlock remotely or create home automations
Bluetooth – both locks use bluetooth as a secure form of connection to set up the lock, and add/remove users
Zigbee connectivity – both locks have a Zigbee chip to connect to an Aqara Hub (optional)
Manual overrides – both locks are 100% operational even without battery or even the presence of a circuit board, with a mechanical key
Differences
This is where it gets interesting – the differences between the locks!
Type of lock – this one is probably the most obvious – our Aqara A100 has a lever-handle that is used to operate the lockset. Our Aqara D100 is a push-pull design, with fewer manual mechanical parts.
Size – While they're different sizes, they're roughly similar. Our Aqara D100 is slightly less wide, and with less depth. This makes our Aqara D100 better suited for doors where gates are very close (requires 6cm minimum distance).
Batteries – Our Aqara A100 uses 8x AA batteries with a battery life of 18 months. Our Aqara D100 has a rechargeable lithium ion battery; battery life of 12 months.
Design – The Aqara A100 is more industrial, with its matte surface, which some prefer. The Aqara D100 has a sleeker profile and a glossy finish that gives it a premium shine.
LED Lights – Both have LED lights to give users feedback. The A100 has a line below the keypad. The D100 has a ring of LEDs around the top oval. Also, the Aqara D100 has LED lights on the inside button.
Keys – the mechanical keys of the Aqara D100 has a beautiful design reminiscent of Swiss Army Knives. The A100 is just a key (a very long one).
Features specific to the Aqara D100 (which the A100 lacks)
Fully Automatic Lockset – this basically means the Aqara D100 has a motor driving the bolts. Unlock the door (with any of the abovementioned methods), and the bolts retract, so you can simply push to open the door. Close the door and the bolts extend into the frame automatically.
Doorbell button – the Aqara D100 has a doorbell button that can be integrated into your smart home system. The lock itself will chime – also, you can set for your Aqara M2 Hubs to chime as well, and receive a phone push notification.
Inside button – without a handle from the inside to open the door, the Aqara D100 relies on a button on the inside to unlock. Simply press the button, and the motors will retract the bolts, allowing exit.
Child Lock – the inside button features a toggle to enable child lock, which basically disables the inside button.
Features specific to the Aqara A100 (which the D100 lacks)
Semi Automatic Lockset – Unlike the Aqara D100 which operates with a motor, the Aqara A100 operates with a clutch. When locked, the clutch is not engaged, meaning pressing the handle is simply "free play". When unlocked, the clutch engages, and the handles can be pushed down to move the bolts. This means there is no motor driving the bolts – it's actually mechanical movement from the handles that drives the bolts – and only when the clutch is engaged (unlocked).
Inside-lock – The Aqara A100 has an additional inside-lock (bolt), also called a "night latch". This lock physically controls an extra bolt for extra security. Only administrators (and people from the inside) can unlock this inside-lock. Normal users and the mechanical key cannot unlock the inside lock.
A Word on Fully-automatic vs Semi-automatic
We found that many clients have shown a preference towards semi-automatic, vs fully-automatic locks. This is mostly because the semi-automatic nature of the lock gives users confidence in the manual control of the lock in the event of any problems. While this is true, both locks actually have manual overrides, as explained below.
To us, it all boils down to a matrix of convenience and familiarity. Basically, a semi-automatic lever handle smart lock is more familiar and less convenient, while a fully-automatic lock is less familiar and more convenient.
| | | |
| --- | --- | --- |
| | Semi-Automatic Lever (A100) | Fully-automatic (D100) |
| Familiarity | More familiar, more alike traditional locks. Suitable for elderly. | Less familiar, functionality is unlike traditional locks. |
| Convenience | Less convenient, requires extra push on handle to retract bolts and unlock door. | More convenient – automatic bolts means you can open your door easily by pushing it after unlocking. |
A Word on Manual Overrides
While both locks have manual overrides, they're a bit different in implementation. The Aqara A100 is more intuitive, while the Aqara D100 is a bit harder to understand. Ultimately, when it comes to treating both locks as fully manual, non-smart locks, the Aqara A100 would be much more familiar due to its semi-automatic nature.
A quick roundup of the difference is:
| | | |
| --- | --- | --- |
| MANUAL MODES | Aqara A100 | Aqara D100 |
| To unlock from outside | Use the mechanical key | Use the mechanical key |
| To lock from outside | Pull lever handle upwards | Use the mechanical key |
| To unlock from inside | Push level handle downwards | Use emergency override knob |
| To lock from inside | Pull lever handle upwards | Twist emergency override knob to correct position |
Perhaps what's most important – both are fully functional as normal, non-smart locks, as long as you have the mechanical keys.
A Word on Sizes and Opening Methods
While we briefly mentioned the difference in sizes above, this brings about a much bigger implication than we let on. Generally, the size of a digital lock brings about significant limitations in where it can be installed. The two big factors are:
Distance from main door to metal gate
Presence of long, vertical handlebars
Door to gate distance
Most BTOs built within the last decade have a distance between door to metal gate of 20+cm, which makes it comfortable installing all types of smart locks and digital locks. However, older HDB flats might have distances as little as 5cm – especially if the metal gate has a handle at the same spot as the door. In these cases, the size of your lock matters a lot. For our Aqara smart lock series, here are the minimum distances between door to gate (or gate handle if in the same place) to fit the corresponding locks.
Aqara N100 – 9cm
Aqara A100 – 9cm
Aqara D100 – 6cm
Handlebars
There has been an increasing number of condominium projects which adopts the deadbolt + handlebar type of doors. While these handlebars may look better (subjective), they pose a problem to smart locks with level handles simply due to the fact that the lever handles may hit the handlebar. To resolve this, the long handlebars may have to be removed.
Alternatively, with the push-pull design of our Aqara D100, it's possible to install a smart lock with those long vertical handlebars.
What about the N100?
To choose between the N100, A100, and D100, it's a simple process.
Read this article first. If your decision is the D100, then you're all set!
If your decision is the A100, then you might want to consider choosing between the A100 and N100. This article will help!
Basically, the A100 and N100 are very similar. It's unlikely for a client to pick the N100 if she's already decided on the D100.
How to choose?
Both locks feature the same unlocking methods, so this shouldn't factor in the decision making process. Besides the specific features of each lock (such as doorbell, night latch), choosing one over the other is simply a matter of deciding between the push-pull automatic design, vs the lever-handle semi-automatic design.
Of course, if your home has limitations of the distance of the door to gate, or from handlebars, then you may be limited only to the Aqara D100, which offers more flexibility in both areas.
Lastly, there's the issue of price. The Aqara D100 is more expensive, though the features may make up for it.
A summary:
Choose this if you prefer the familiarity lever handles provide, and aren't bothered by the semi-automatic nature of the lock.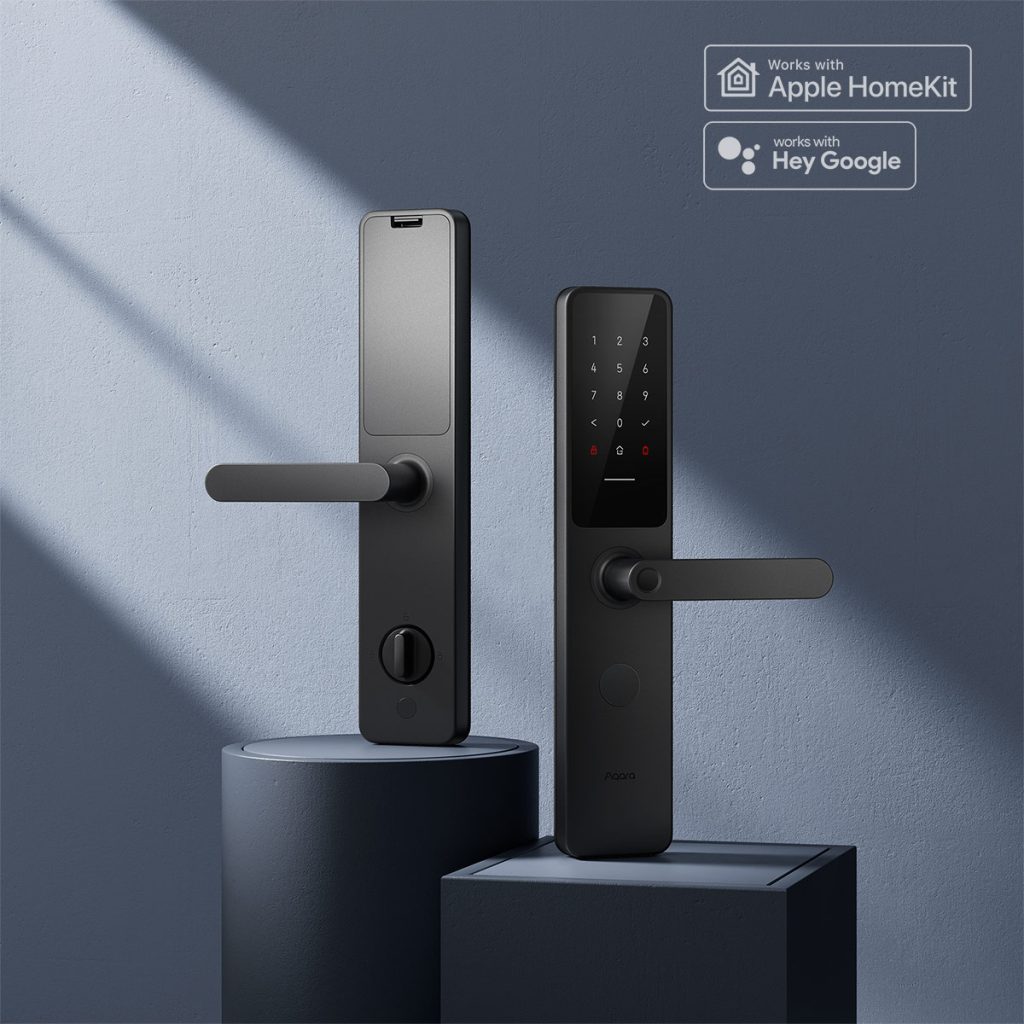 Aqara A100 Zigbee Smart Lock
$

484.00
–
$

686.00
incl. GST
Choose this if you like the sleeker push-pull design, value the higher convenience the fully automatic lock provides, and are willing to pay the price premium.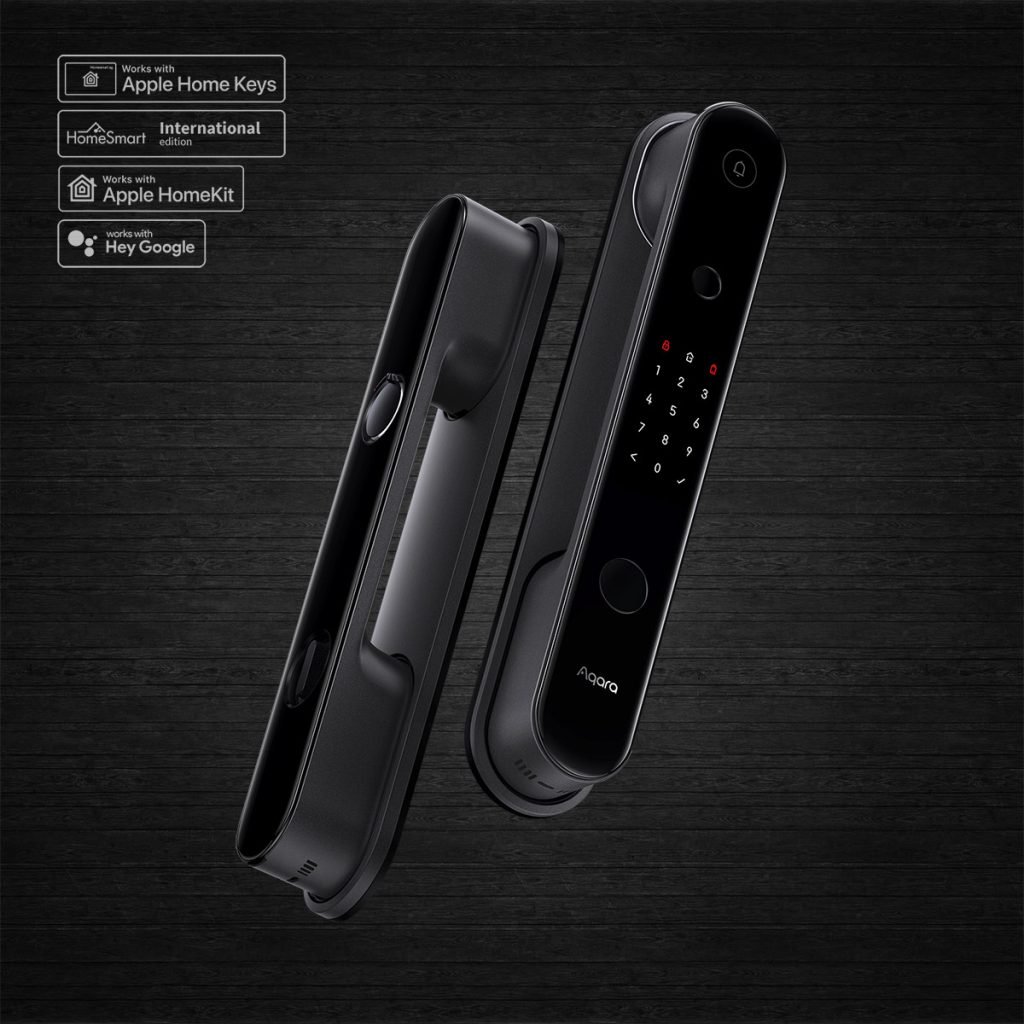 Aqara D100 Zigbee Smart Lock
$

686.00
–
$

888.00
incl. GST
Whichever you choose, Homesmart.sg has your back! Want to know more? Get in touch!