With three smart door lock models to choose from, we frequently get the question – what's the difference between the models? We're here to spell it out for you!
To make things simple, we have to adopt an efficient framework on choosing between our 3 models. The decision process goes a bit like this.
and if there's no clear outcome, or if the Homesmart.sg Aqara A100 is the clear choice
These other questions will help guide you towards the most suitable door lock:
Are you an iPhone / Apple Watch user?
If your answer is Yes, then Apple Home Keys is probably going to be useful for you. You should be considering a smart lock with the Apple Home Keys functionality, which our Aqara N100 doesn't have. So, it becomes a match up between our Aqara A100 and the Aqara D100.
Do you prefer a door lock with a handle, with mechanical movements?
If yes, then this article is for you! Both these locks are very similar in terms of appearance, and mechanically.
Do you have a long vertical handlebar (that you are not willing to remove), or a distance of door-to-gate of less than 9cm (and more than 6cm)?
If your answer is yes, look no more. Both the Homesmart.sg Aqara N100 and A100 is not suitable for you – your only option is our Aqara D100.
With all these in mind, let's go straight on to the contenders.
Aqara N100 Zigbee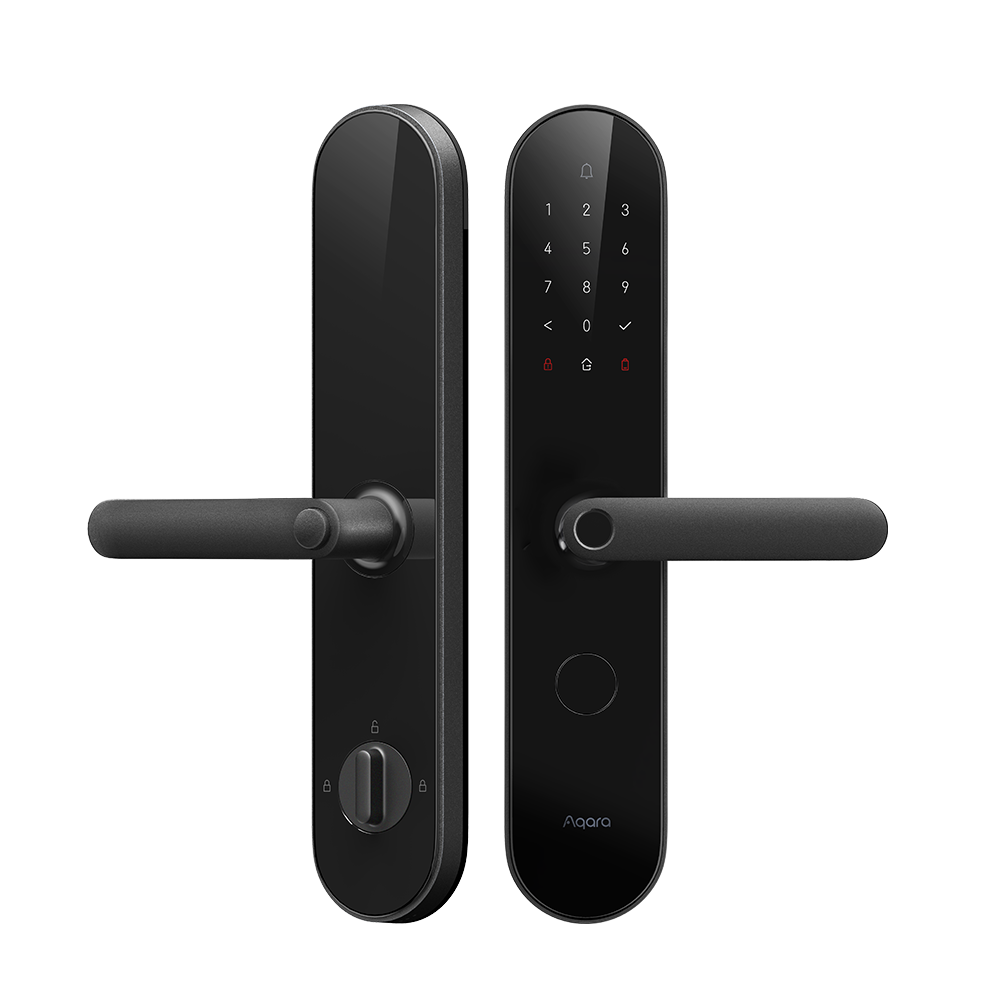 Our original Aqara smart lock, with a complete feature set and a very solid build quality. It's rounded shape and glossy finish gives it a premium appearance.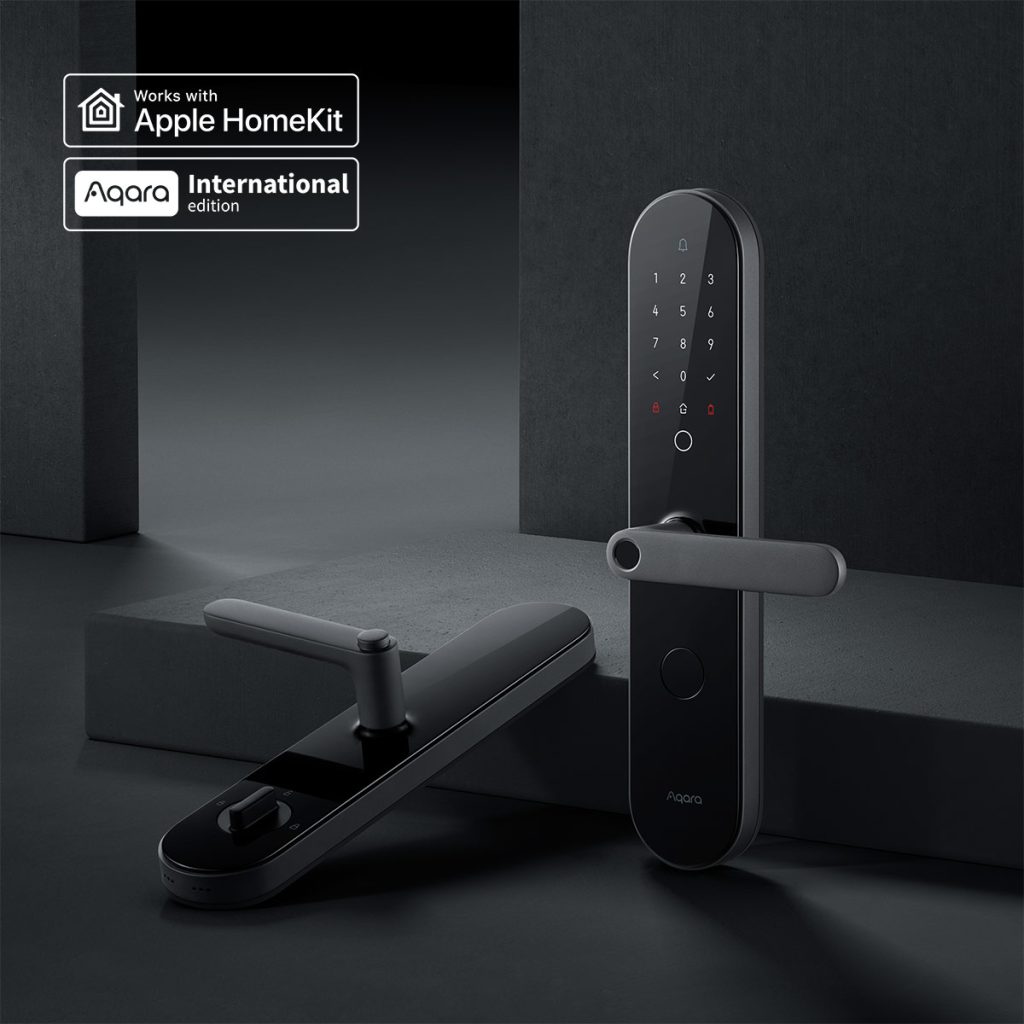 Aqara N100 Smart Lock
$

459.00
–
$

639.00
incl. GST
Aqara A100 Zigbee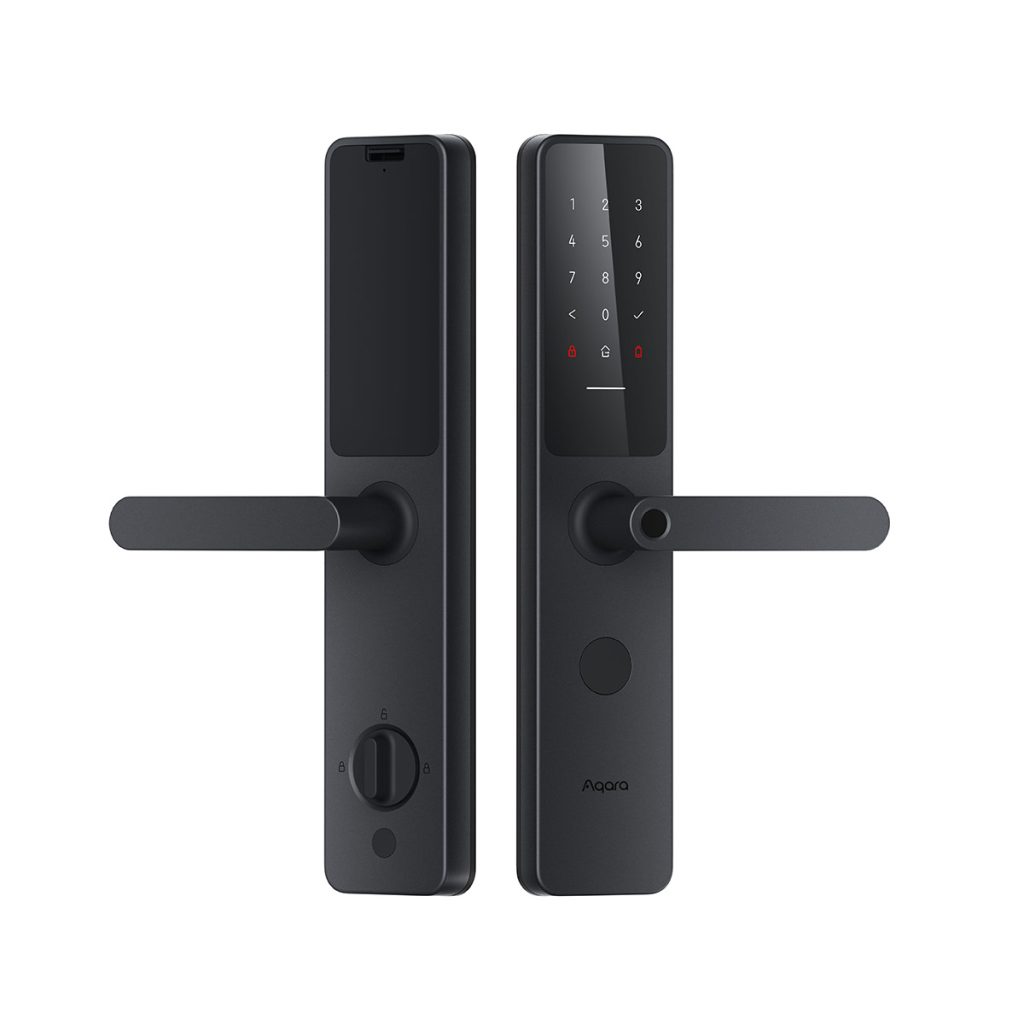 Our latest Aqara smart lock, with almost the same feature set as the Aqara N100, and added capability for the very exciting Apple Home Keys. It's more rectangular and less glossy.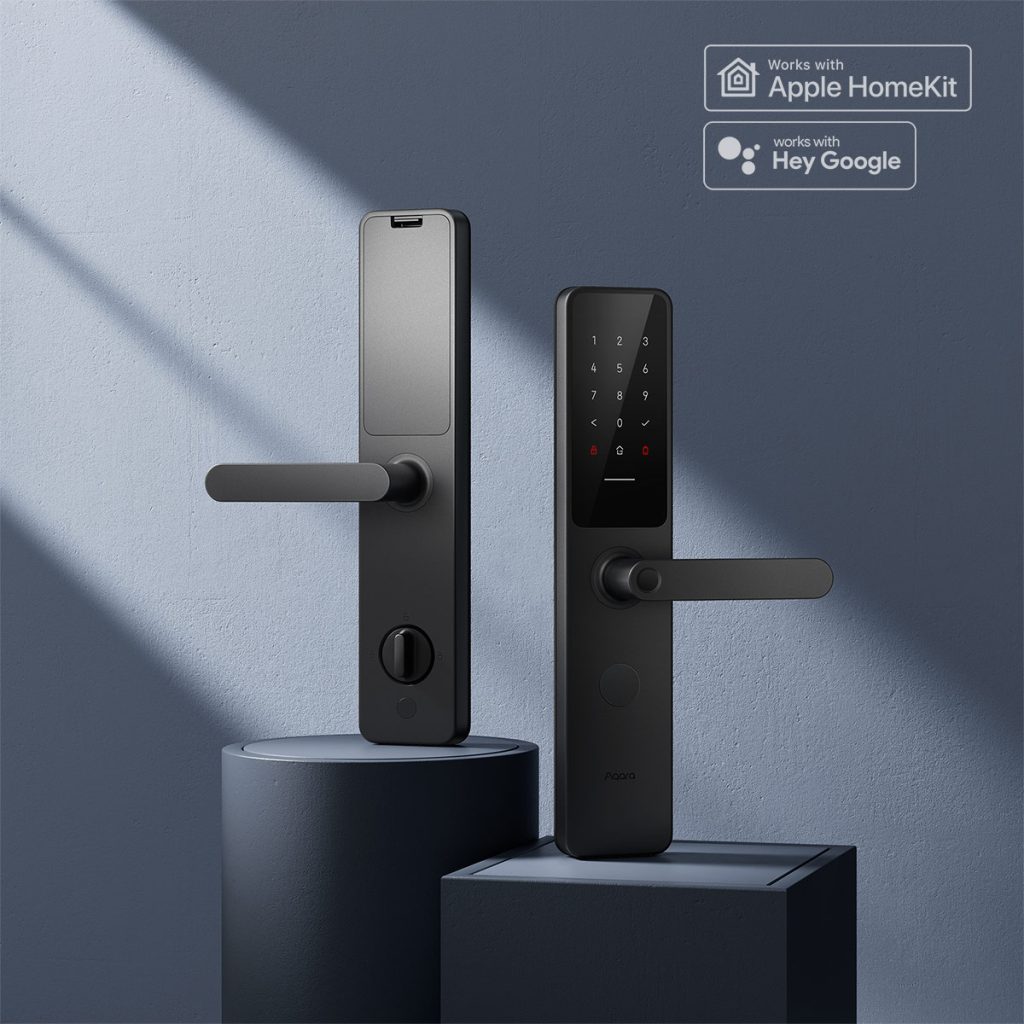 Aqara A100 Zigbee Smart Lock
Highly secure smart door lock with support for Apple Home Keys and Google Home, along with other unlocking methods such as biometric prints and PINs.
$

484.00
–
$

686.00
incl. GST
Similarities
It's easier to start with the similarities! Both locks have a very extensive feature list, many of which overlap.
Size – both are the same size, and use almost the same lockset
Opening method – both have the same lever/handle design
Fingerprint unlock – both feature a fingerprint reader located in the same place – on the handle
PIN code unlock – both support multiple PIN codes. Each user can have different PINs
PIN masking – you can mask your real PIN code for both locks, by adding random digits before and after your real PIN during input
NFC cards – both support Aqara NFC card unlock (sold separately)
Mechanical keys – both support mechanical key lock/unlock – the position is similar on both
Batteries – both locks use 8x AA batteries, and have the same battery life of 18 months
USB-C port for emergency power – Both have their emergency power port at the same spot, at the bottom
Inside-lock – both locks have an additional inside-lock (bolt) which must be manually turned for extra security
User management – both locks use the Aqara Home app for user management
One-time Passwords – both locks support generating OTPs from your app, even if your lock isn't connected to a hub
Apple HomeKit Support – both locks are supported on Apple HomeKit – you can add the lock to your Apple Home and unlock remotely or create home automations
Bluetooth – both locks use bluetooth as a secure form of connection to set up the lock, and add/remove users
Zigbee connectivity – both locks have a Zigbee chip to connect to an Aqara Hub (optional)
Differences
This is where it gets interesting – the differences between the locks!
Design (Shape) – they're designed pretty differently, and our clients haven't been unanimous on which design they prefer (we prefer the A100).
Design (Materials) – it's hard to tell from pictures, but the glossy full-panel on the Aqara N100 is very pleasing to the eye. The Aqara A100 is more "industrial", which some prefer.
Design (inside panel) – we're not big fans of the battery cover with the little catch on the Aqara A100. Also, the A100 has a rubber piece at the bottom that hides a screw hole, which the N100 doesn't. The Aqara N100 looks better from the inside.
LED Lights – Both have LED lights to give users feedback. The N100's is a ring, the A100's is a line.
Handles -the N100 has smooth handles that are slightly thicker and feels more solid. The A100's handles are rougher, and doesn't feel as good.
Keys – the mechanical keys of the Aqara N100 has a beautiful design reminiscent of Swiss Army Knives. The A100 is just a key.
Features specific to the Homesmart.sg Aqara N100 (which the A100 lacks)
Doorbell button – the Aqara N100 has a doorbell button that can be integrated into your smart home system. The lock itself will chime – also, you can set for your Aqara M2 Hubs to chime as well, and receive a phone push notification.
Inside button – the Aqara N100 has an inside button you need to press to be able to open and unlock your door from the inside. It's actually a security feature, but some users prefer without.
Features specific to the Homesmart.sg Aqara A100 (which the N100 lacks)
Apple Home Keys – unlock your door using a Home Key that's stored in your Apple Wallet on your iPhone or Apple Watch. Simply tap your phone or watch on your door lock to unlock.
Remote Unlock with Aqara Home App – The A100 can be remotely unlocked if the lock is connected to a hub (not required for basic functions; hub sold separately).
Time-based Guest Passcodes – Add new passcodes for temporary guests that will only work in certain time blocks. With an Aqara Hub, you can even do this remotely.
Google Home Support – The A100 shows up on Google Home, and you can unlock using Google Assistant. However, at the time of writing, lock support on Google Home isn't designed very well – you have to dictate your actual PIN code to your Google Assistant to get it to unlock, which makes no sense to us.
How to choose?
To us, the main differentiating factor between the two locks is Apple Home Keys and Time-based Guest Passcodes. These two features would be very useful to two particular group of people – iPhone users and Airbnb (or other) hosts. If you fall under one of these groups of people, it may make sense to choose our Aqara A100. Otherwise, the Aqara N100 may be the better choice.